In-Store Pickup Options for Buyers
The checkout experience through a website powered by TCGplayer may include an in-store pickup option. This will give you the opportunity to pick up your orders at the physical store rather than having them shipped.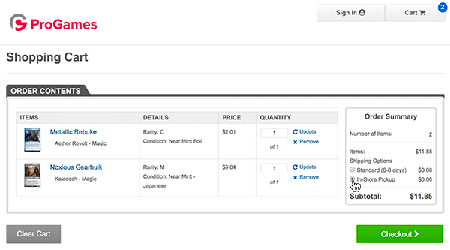 When you select "In-Store Pickup" as a shipping option and click the Checkout button, you will arrive on a Choose Your Payment Option screen. This screen allows you to select whether you want to Pay Now* or Pay Later. These options present two different ways to pick up your cards.
1. Pay Later is an option where your list of products will be sent to the store. Selecting the Pay Later option will not hold the items for you, but will notify the store that you would like to come in and purchase them. You will then see the success message shown below.
Example: You are able to check the store's online inventory, see what the store has available and add items to your cart. When you're ready to check out, you can select the in-store pickup option and choose Pay Later. If you are in the store, you won't have to ask if a card is in stock, since you will be able to view the store's entire inventory from your smartphone.

2. If you select Pay Now, you'll be able to complete your transaction and purchase the cards. Your list will be removed from the inventory automatically and put on hold for you at the store location. You will then be able to pick up those products in the physical store at your convenience.
Example: You live close enough to the physical store to pick up the products rather than having them shipped. You need the cards that were ordered as soon as possible and don't want to wait for shipping.