Getting a TCGplayer Direct Package
Interested in receiving a Direct package from TCGplayer? If so, TCGplayer will pack and ship your orders to you. You'll get everything at once, and it will be exactly as you expect. You no longer have to wait for multiple packages to arrive from different Sellers.
1. To order a Direct package, look for the "Direct Qualified Seller" and "Direct Qualified Products" logos when shopping. Direct Qualified Sellers contain only Direct Qualified Products. Items from these Sellers will qualify for Direct as long as we currently have them available at our TCGplayer Direct Headquarters.

2. Once you have added items to you cart, you will see a Direct Package information box showing any Sellers in your cart that are not Direct Qualified Sellers. This information box will also show you how much more you need to add to your cart to qualify for free shipping. Orders over $50 receive free shipping, while orders below that are charged $2.49 for standard shipping (12-15 business days). You can also opt for expedited shipping for an additional fee.

3. When you are done shopping, view your cart.
Any order that qualifies for TCGplayer Direct will appear in the Package #1 position of your cart. It will have a blue border and will have the TCGplayer Direct logo in the left corner of the package.

Any order that does not qualify for TCGplayer Direct will appear like Package #2 with a gray border, and you will see *Shipped By:* which indicates the individual Seller who will be sending the package to you.

Note: There may be times when items from a Direct Qualified Seller do not qualify for TCGplayer Direct. This happens when we do not currently have those items in stock at our TCGplayer Direct Headquarters. In that case, those items will be fulfilled and shipped by the Seller as they currently have those items in their inventory.


4. Once your cart contains all the items you want to buy, use the Cart Optimizer to create an even better Direct package. The Cart Optimizer will put all Direct qualified products into a single package for you.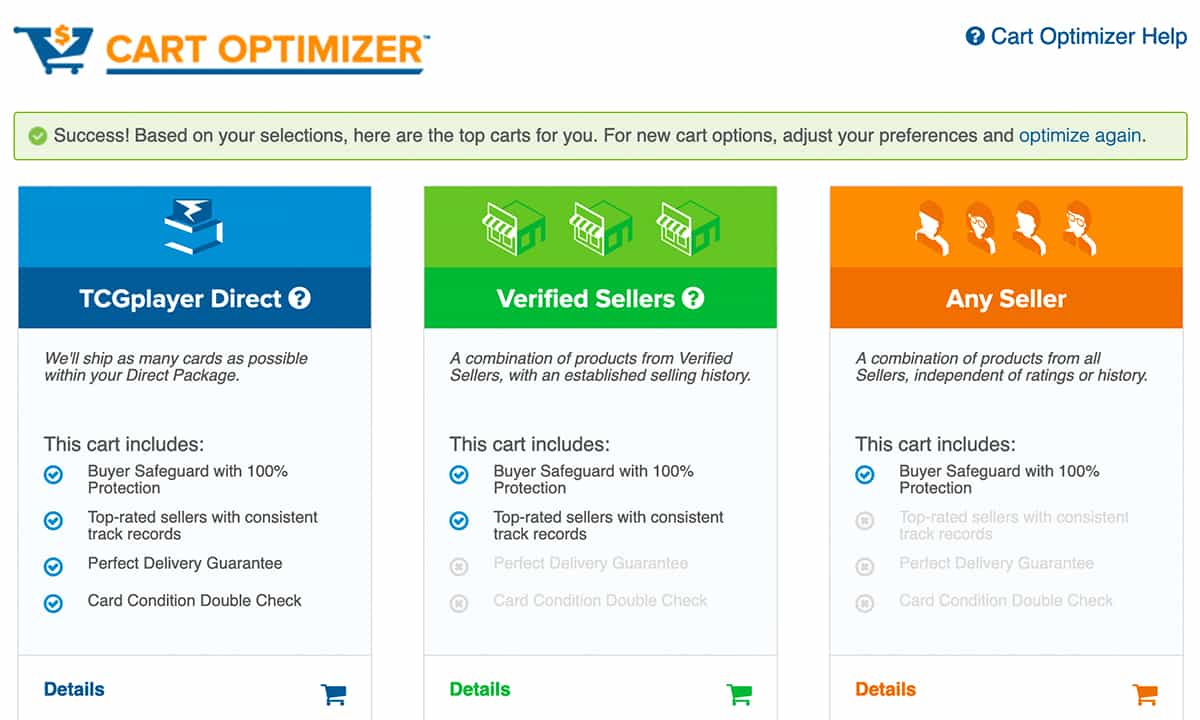 Change Log
6/8/22 - Updated information about free shipping and standard shipping price.