How to Search for Products and Place an Order on TCGplayer.com
Welcome to TCGplayer.com, your one-stop shop for all things geek culture from trading card games to Funko Pop! figures and more! Below are some directions to help you find and order products.
1. Sign in or Create an Account
a. On the homepage, click the Sign In button in the upper right corner.

b. On the log-in screen you can log in with your existing account credentials, or you can create a New Customer account.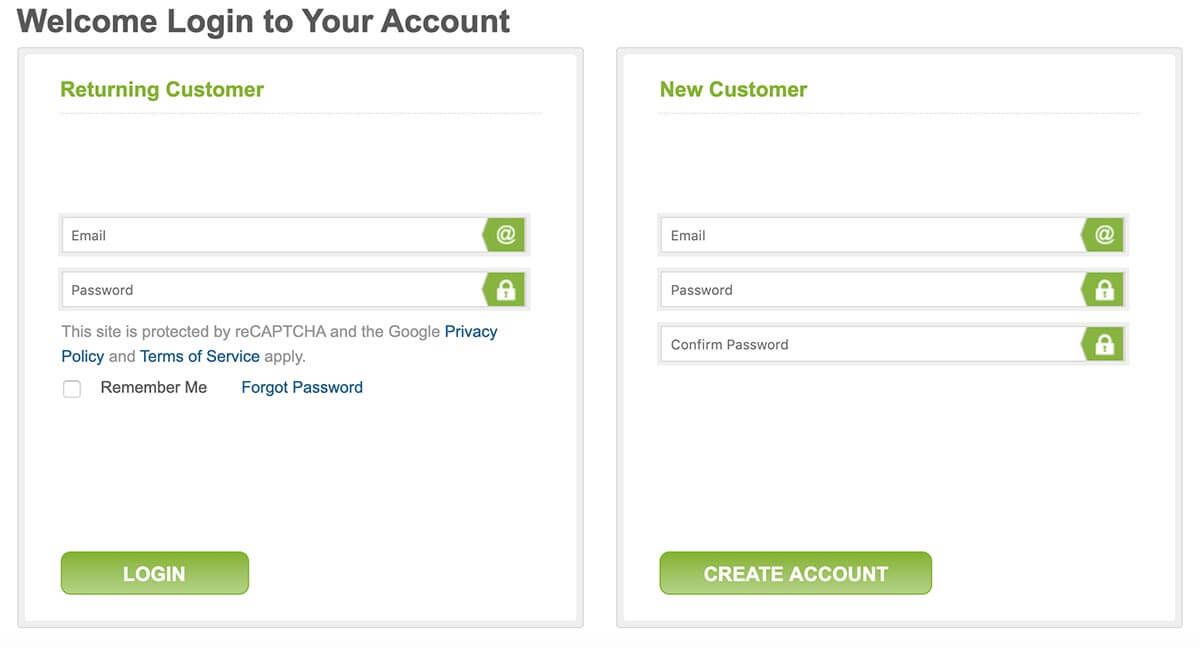 2. Search for Product(s)
After logging in Now that you're logged in, you will be taken back to the homepage. From here, you can search for the products you're interested in purchasing. There are a few ways to do this:




Search Bar - Enter the name of the product you're looking for in the search bar at the top of the screen. As you type, options matching the search term will autocomplete below. You can click on the product name or finish typing the name and hit the magnifying glass icon to start the search.


Browsing - If you're not looking for a specific product, you can browse available products by category or set using the category dropdowns on the main screen. For products without a drop down menu, use the "More" menu.


Do you have a specific list of Magic, Yu-Gi-Oh!, or Cardfight!! Vanguard products you want to purchase?
The TCGplayer Mass Entry tool lets you enter an itemized list of products directly into your shopping cart. Choose your preferences, add to your cart, and then you can use our Cart Optimizer to further refine your cart and get exactly what you're looking for.
3. Review Search Results

The search results page will provide you with lots of information to help you make a decision on which product to purchase.
If you searched for a specific product name, you will see only those results returned. If you chose a set or game from the dropdowns, you will see all results for that group returned.
Use the List/Grid toggle in the upper right corner to switch views. The List view will provide more detailed pricing information for fewer results, and the Grid view will show a larger spectrum of available products with quick price points.
Use the "Sort Products By" drop down to sort by Relevance, Best Selling, Alphabetical, or Price



List View - The example below shows the results returned for a search on Tarmogoyf.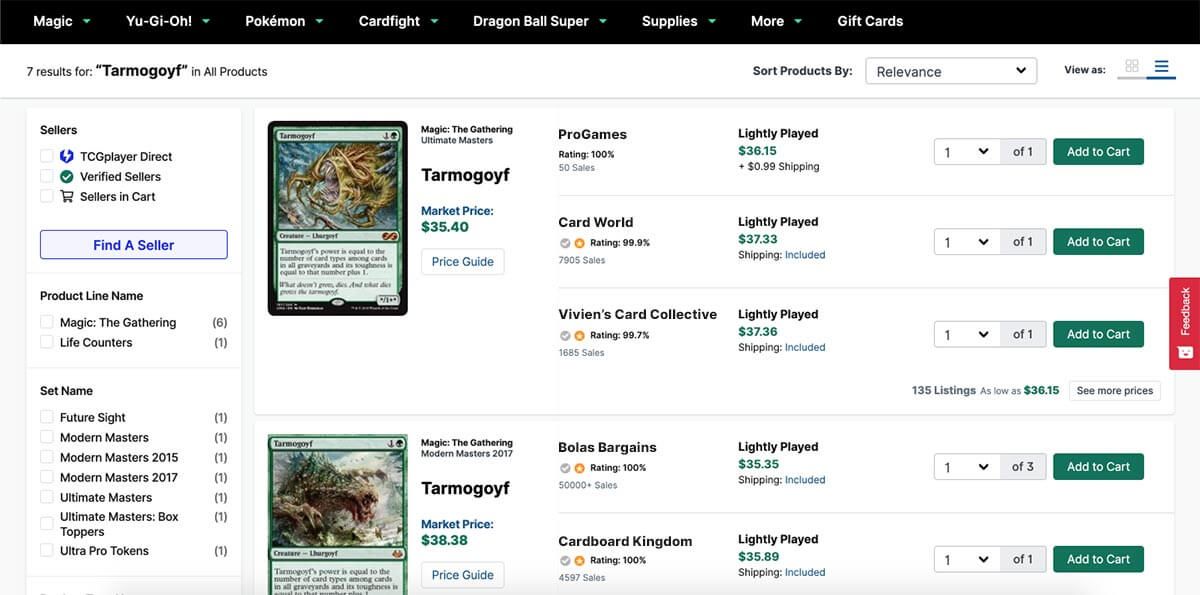 Grid View - The example below shows all results for the Theros Beyond Death set of Magic: The Gathering.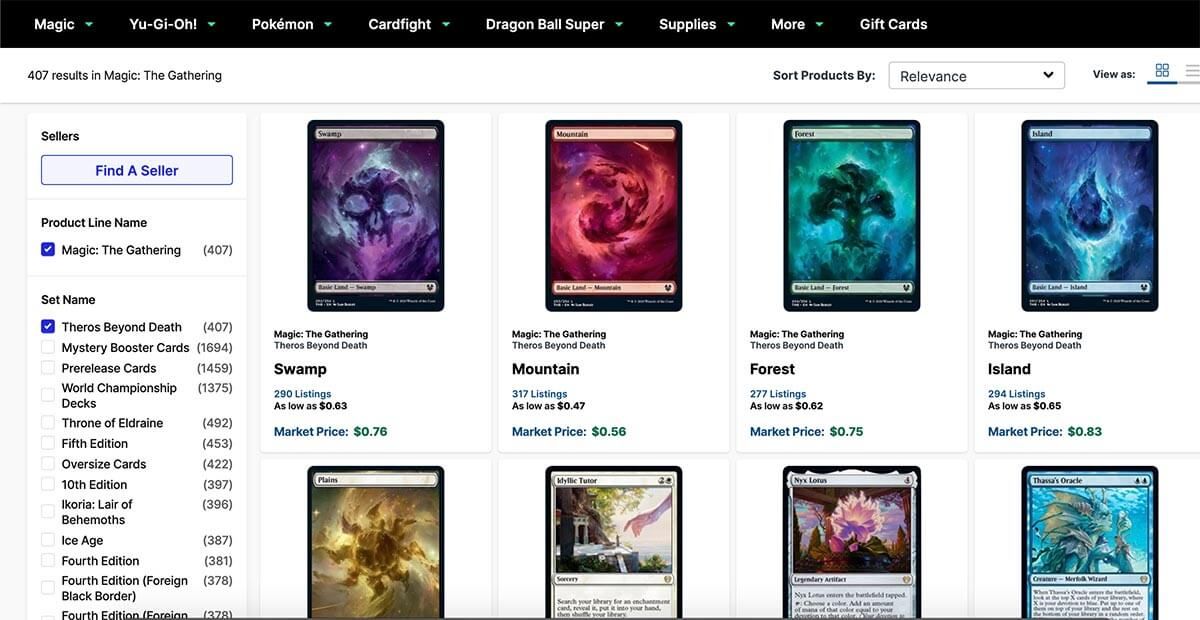 On the search results page, you can click on the specific product to get more information, or you can add the product to your cart if you are using List view.

Clicking on the product image or name will take you to a more detailed product page. Here you can read more information on the product and view pricing information, such as Market Price, Buylist Market Price, and Listed Median.
Scroll down the page or click the "View More Prices" button to view prices from all available sellers.
When you've found the product you'd like to purchase, enter the quantity desired and click the "Add to Cart" button. You can only purchase up to the maximum quantity available from each seller.
In this example, the seller shown has one card available at this price point:

4. Update and Optimize Your Cart
You can now review your cart to ensure it is accurate and use the Cart Optimizer option to get the best prices and fewest number of packages.
Click the cart icon in the upper right corner to view your selected products.


Within your cart, you will see a breakdown of products by package and you will have the options to Update, Remove, or Save for Later.
You will also have the option to Optimize Your Cart. The Cart Optimizer will analyze your cart to find the best prices from the fewest sellers so you can get your products in fewer packages. If you'd like to try the Cart Optimizer, click the blue "Optimizer Your Cart!" button:
After optimization, you will be presented with three options for:
Review each cart and price. If you find one you like, click the "Select This Cart" button.
If you want to return to your original un-optimized cart, simply click the back arrow in your web browser.
Once you're happy with your cart, you can click the "Checkout" button:
5. Checkout
On the Checkout screen, you will be able to enter or update your Shipping and Billing Addresses and select a payment method.
After all information is entered, click the "Submit Order" button. You will receive a success message and a copy of your order will be emailed to you!