Clearing Your Live Inventory
Do you need to clear out your live inventory? It's easy to start from scratch, whether you're selling on just the TCGplayer Marketplace or taking advantage of Channel Management through TCGplayer Pro.
Marketplace Channel Only
If you're only listing prices on the TCGplayer Marketplace (TCGplayer.com), this is the process you'll use to clear your inventory.
1. Go to the Pricing tab in the Seller Portal and select your live inventory. A button will appear that allows you to clear your inventory/prices.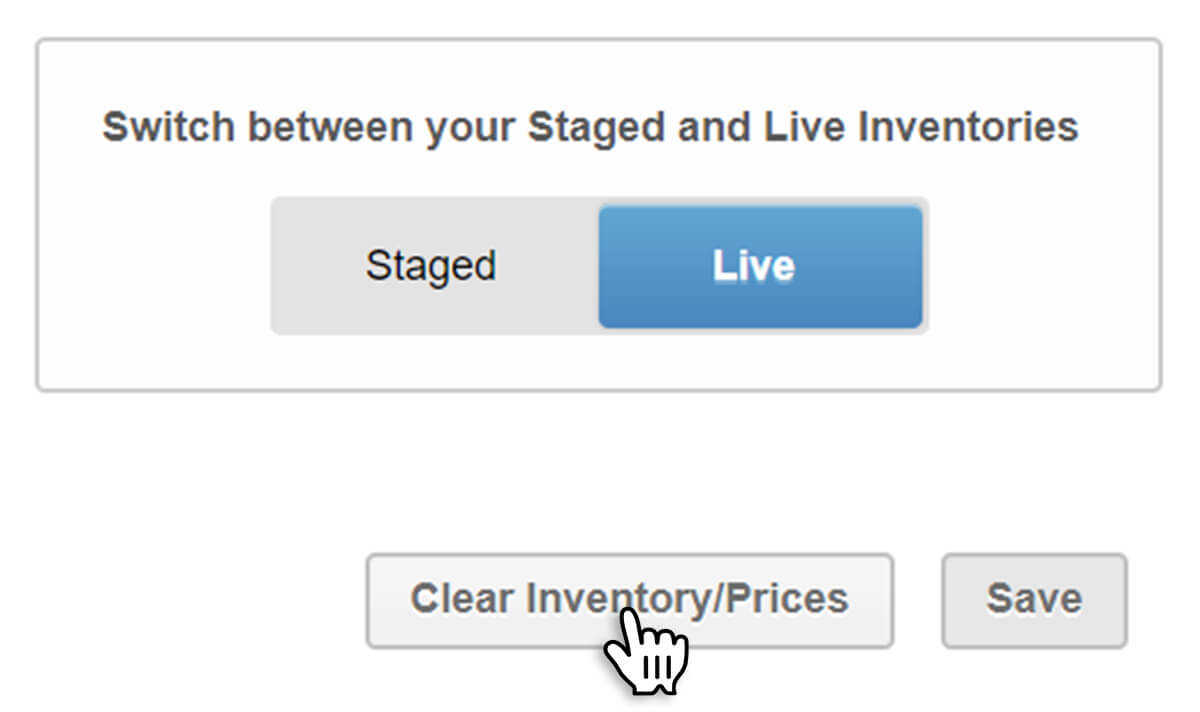 2. After clicking this button, the system will check to see if you have products in Staging. If so, you will be presented with the option to clear Staged Inventory at the same time.
If the "Include Staged Inventory" box is checked, Staged inventory will be cleared in addition to Live inventory.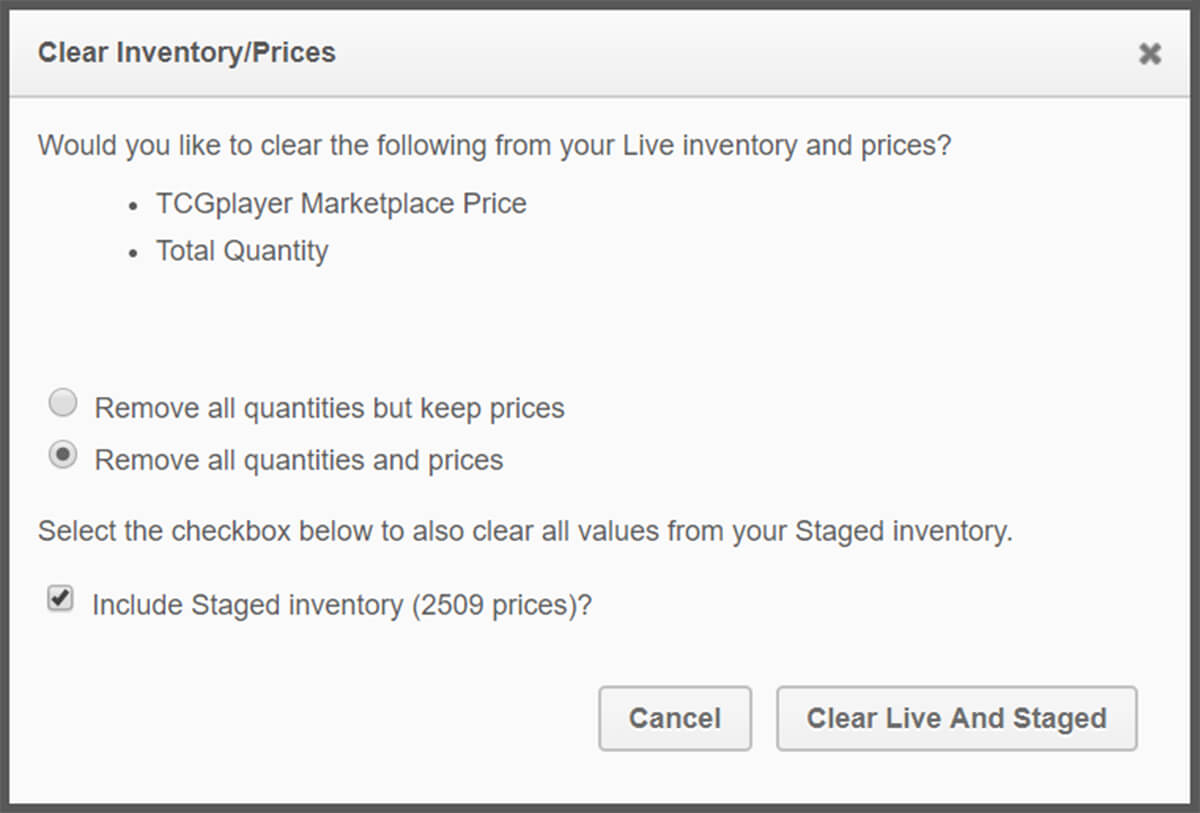 If the "Include Staged Inventory" box is not checked, clicking the button will clear only the Live inventory and leave Staged as-is.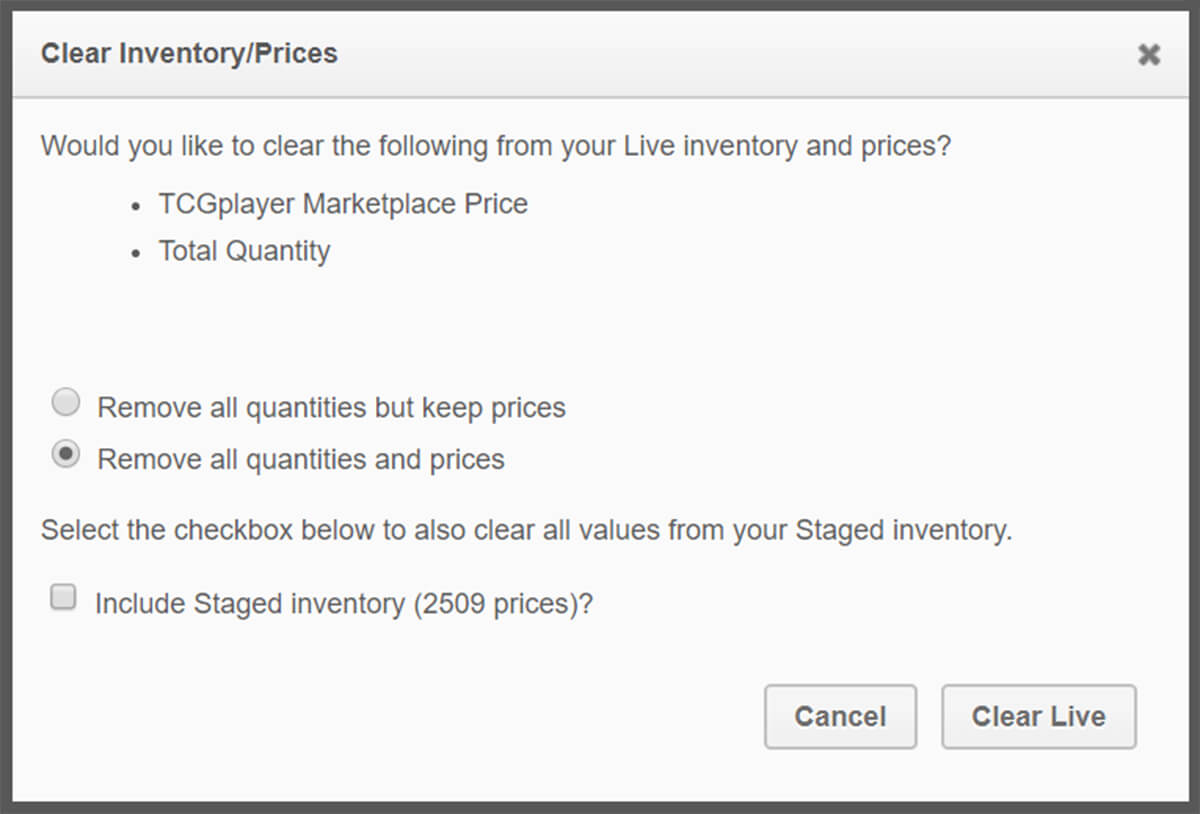 You'll also have the option to either remove all quantities but keep prices or remove all quantities and prices.
You will then be required to enter your Sales Contact Email to proceed:

Clear Live Inventory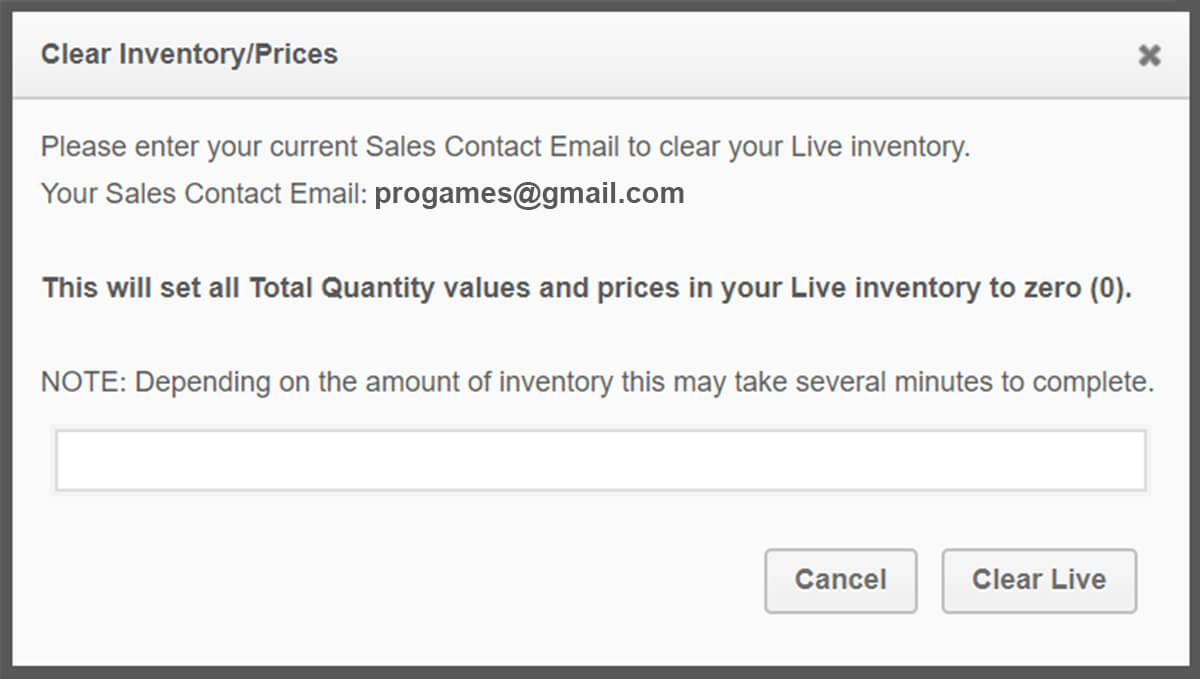 Clear Full Inventory (Live and Staged)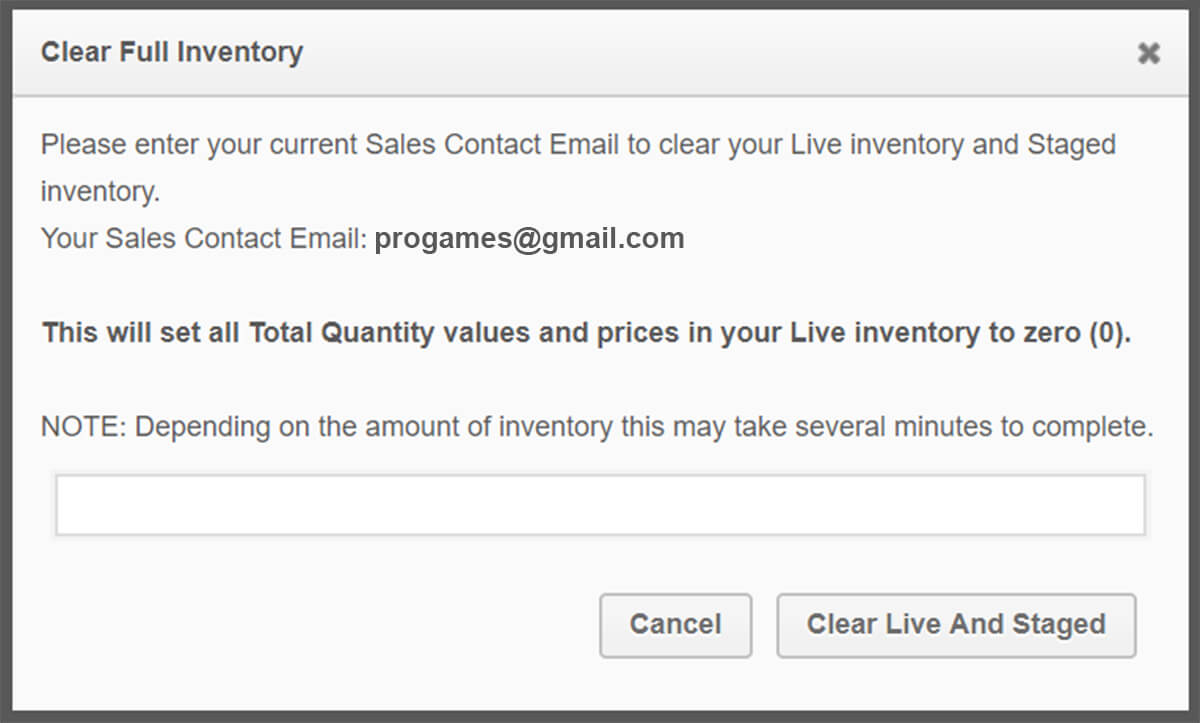 a. If the email address entered matches the Sales Contact Email listed in the My Details tab of the Seller Portal, the system will remove all products from the specified inventory, return you to the Pricing tab, and display a Success message.
b. If the email address entered does not match, you will receive the following message: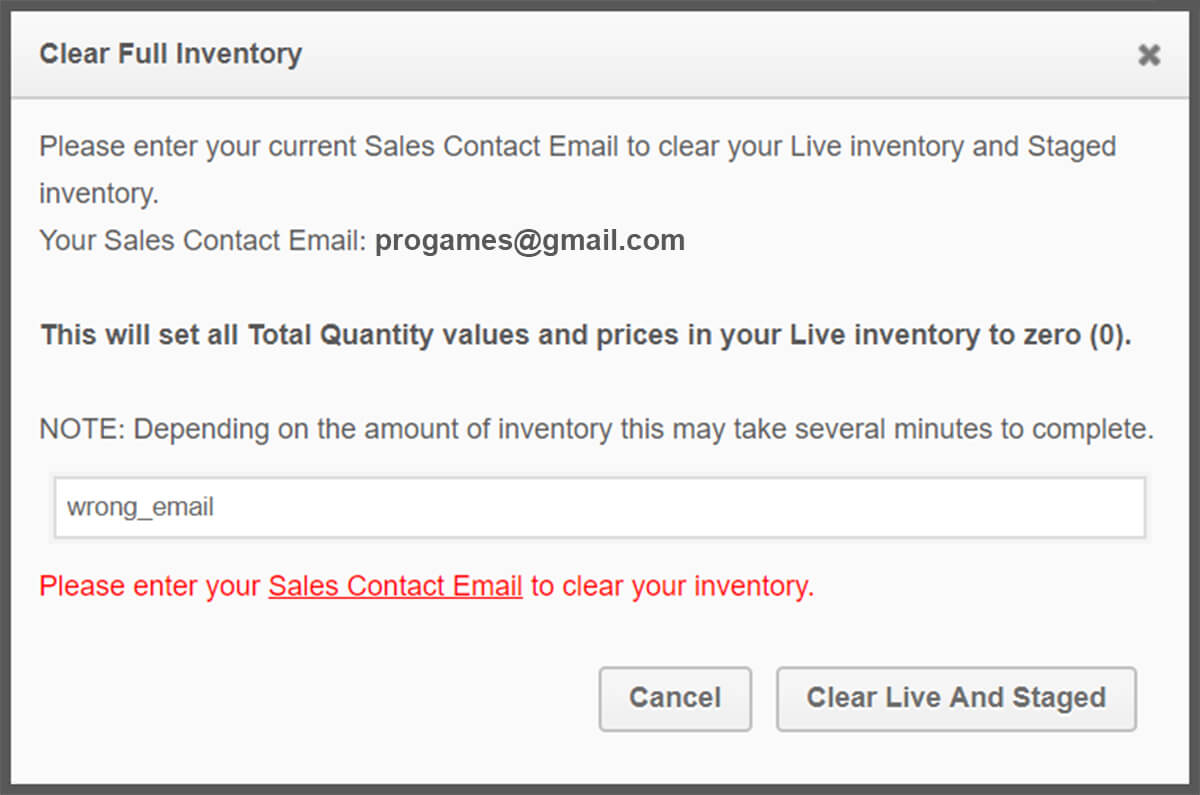 c. Clicking "Cancel" will close the popup and no actions will be taken.
Note: If you're a store owner with a TCGplayer Pro account, users with subaccounts must have permission to clear the live inventory.
a. You can check authorization for each user by going to User Role under the TCGplayer Pro Settings tab.
b. Within "All Pricing Actions," either "All Pricing Actions" or "Pricing - Clear Live Inventory" should be checked for a user to be able to clear the live inventory.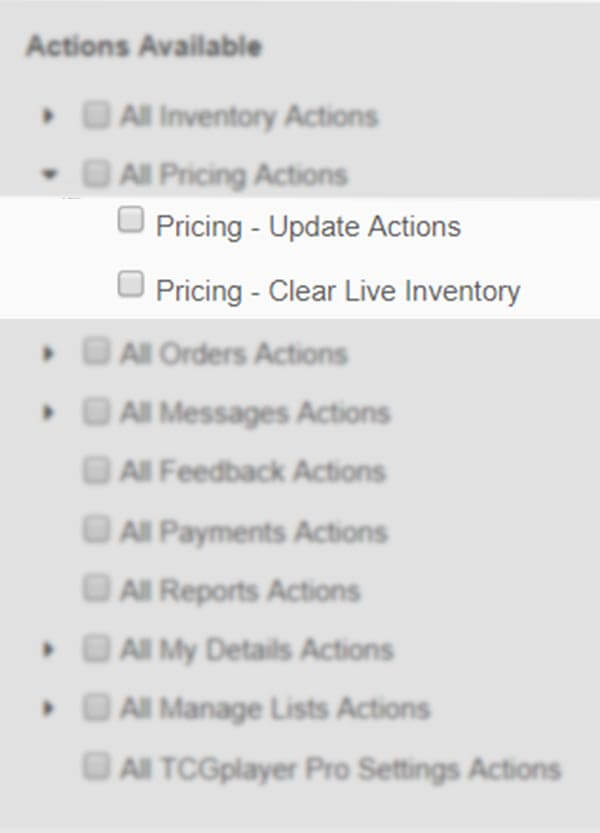 Marketplace and My Store Channels Activated
If you're a TCGplayer Pro seller who's taking advantage of our Channel Management tools and your My Store channel is enabled, you'll see four options for clearing your live inventory. The second option will be selected by default.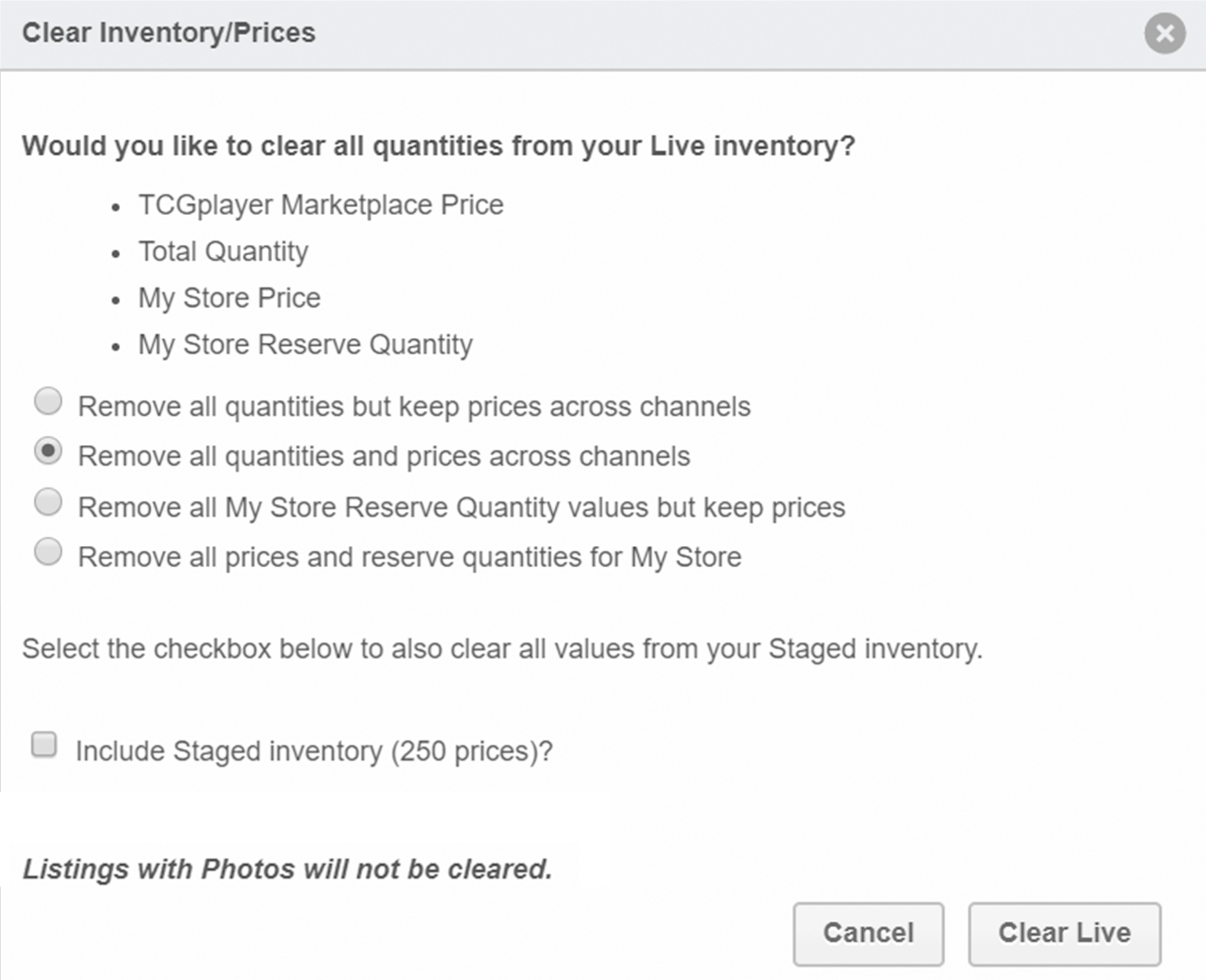 For each of the four options, the corresponding prices and quantities that will be cleared will be listed at the top of the message box.
If you select the "Include Staged Inventory" option, the button on the message box will update to say "Clear Live and Staged."