How do I see my reimbursement invoice in advance?
If you're part of Direct by TCGplayer, we'll periodically send you a Reimbursement Invoice (RI) so you can restock the cards we shipped to buyers on your behalf. You can review all the steps for shipping your RI in How do I ship my Reimbursement Invoice (RI)?"
In general, you can wait until you receive your RI before taking action. However, you can view a pending RI at any time before we send out the final invoice. For example, depending on your workflow, you may want to start pulling products as customers purchase them rather than wait to pull them all at once. Just remember: your RI needs to be sent in the same order it appears in on the original RI Packing Slip you received from TCGplayer.
You can access your pending RI either from the Orders tab or within the Reimbursement Invoices (RI) section of the Direct by TCGplayer tab.
The following dialog box will open and ask you to choose between exporting All Pending RIs or just Latest RIs: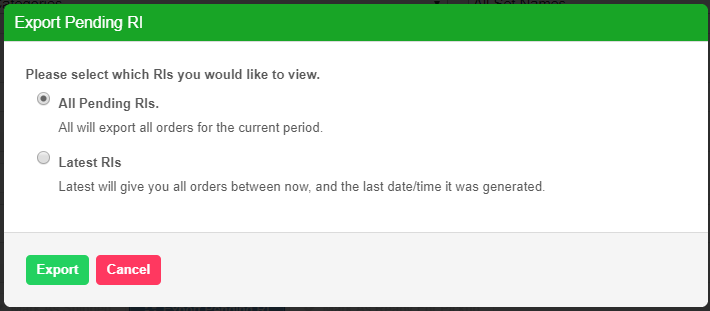 All Pending RIs

(Default) - Exports all orders for the current RI period

Latest RIs

- Exports only the orders created since the last time the Export Pending RI was generated
You can see the last date and time you generated a pending RI. This information will show up beneath the Latest RIs choice in the following format: "Latest Pending RI last generated x minutes ago on MM/DD/YYYY HH:MM:SS by email@domain".
If you haven't run a Latest RIs export during the current RI period, you won't see this text, as shown above.
Once you've selected your choice, click the "Export" button to generate your CSV.
View More Pending RI Details
You can see more details about your Pending Reimbursement Invoice in the Reimbursement Invoices (RI) section of the TCGplayer Direct tab:

Pending Products

: The number of products that are currently in a Direct order that has not yet been generated in an RI

Pending Value

: The value of the products listed above

"View Products" button

: This will take you to a new Details Pending page. Content includes:
View Included Orders -

The orders included in this RI
Reimbursement Invoice Details

:

Seller

Reimbursement Invoice Number

Current Product Count

Current Product Value

Reimbursement Details

:

Category

Set Name

Product

Expected Condition

Quantity

Value