MetaZoo x Sanrio Collector Box Set FAQ and Terms of Service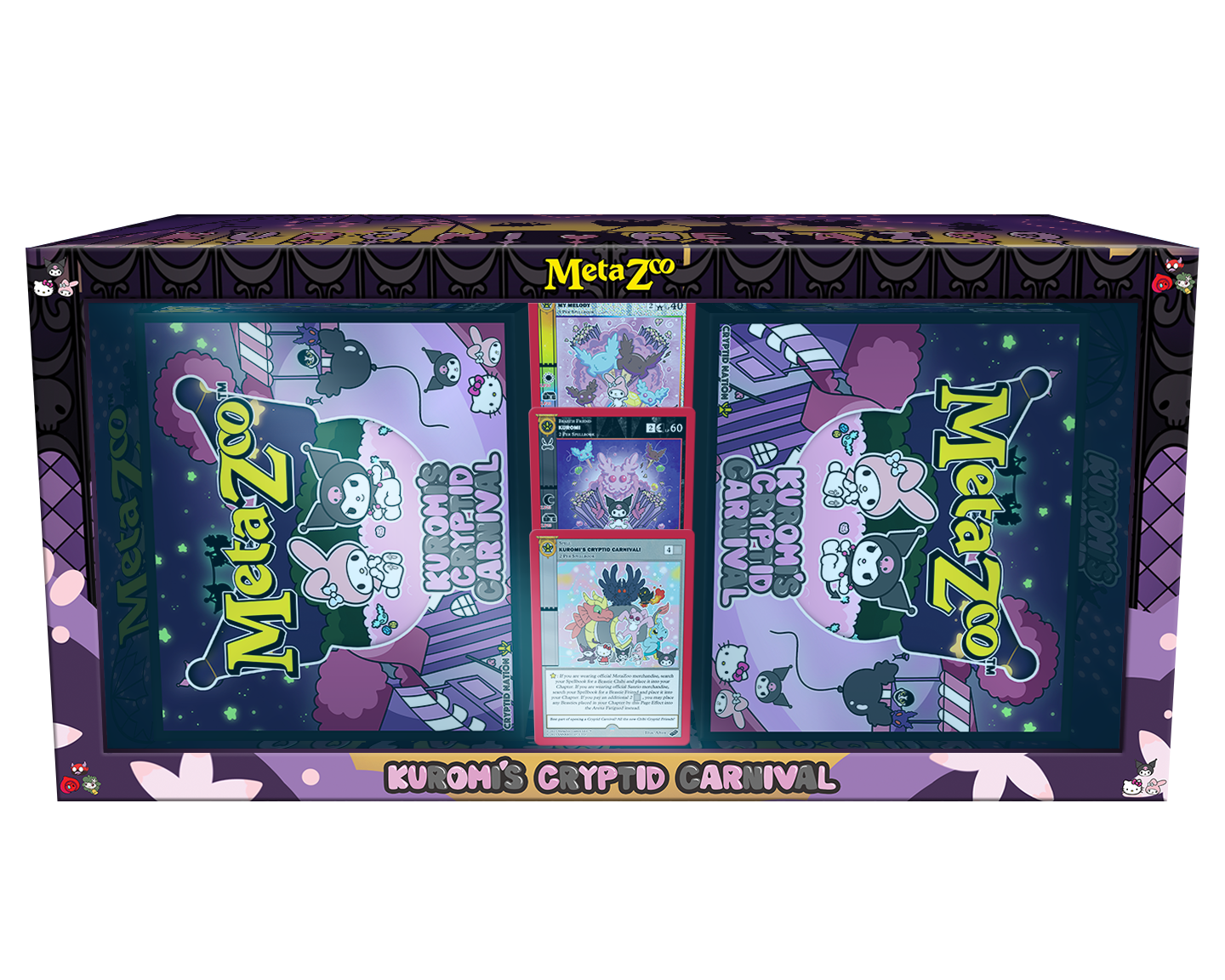 MetaZoo x Sanrio Collector Box Set Terms of Service
Frequently Asked Questions
What is included in the MetaZoo x Sanrio Collector Box Set?
The MetaZoo x Sanrio Collector Box Set includes:
MetaZoo: Kuromi's Cryptid Carnival Booster Boxes - x2
Exclusive, game play altering, Promo Cards - x3

Hello Kitty, Kuromi, My Melody and Friends
Kuromi Exclusive Card
My Melody Exclusive Card

Kuromi's Cryptid Carnival playing card sleeves only available through this box x 50
Exclusive pink dice x 6
How much does the MetaZoo x Sanrio Collector Box Set cost?
The MetaZoo x Sanrio Collector Box Set costs $149.99 USD. The price includes shipping and handling. Tax is not included.
When and where can I purchase the MetaZoo x Sanrio Collector Box Set?
MetaZoo x Sanrio Collector Box Set on TCGplayer
MetaZoo x Sanrio Collector Box Set on eBay
Supply is limited and product is available until sold out. MetaZoo x Sanrio Collector Box Set may be periodically restocked during this time, but no guarantee of any such restocking is made.
When will my order ship?
Preorders placed before November 30, 2023 are expected to arrive the week of December 11, 2023. All other orders will ship 1-5 business days after the purchase is made.
Orders placed before December 17, 2023 at 11:59pm EST will ship on or by December 18th, 2023. While we cannot guarantee arrival by December 24, 2023 for any purchases, it is recommended to place your order on or before December 17, 2023 to receive purchases on December 24, 2023.
Tracking information will be provided when your order is dispatched.
How will my order ship?
TCGplayer uses a variety of shipping methods, including USPS, FedEx, and UPS. Your order history and the email you receive when the order is shippedItem will include tracking details.
How many items can I buy?
There is no purchase limit for the MetaZoo x Sanrio Collector Box Set.
I have more questions. Who should I contact?
Please contact our customer support team.
MetaZoo x Sanrio Collector Box Set Terms of Service
For any questions about purchases of MetaZoo x Sanrio Collector Box Set from TCGplayer.com, including the status of any order or inquiries regarding the return of a previously received order, you may contact TCGplayer customer support. If you already have an account with TCGplayer you can access your order information via the 'Order History' link associated with your TCGplayer account. Just locate the order, press the 'Contact Seller' button and your message will be automatically forwarded to TCGplayer Customer Service for assistance.
Eligibility
Open to legal residents of the United States who are at least 18 years old at time of sale. Available to ship to all 50 states, APO/FPO/DPO addresses, U.S. territories and possessions. If you are located in Canada and would like to purchase this item, please purchase through the TCGplayer eBay store.
How to Purchase
Purchases will be on a first come first served basis. Offer available online only. While supplies last. Final sale of MetaZoo x Sanrio Collector Box Set is subject to eligibility verification.
Shipping Schedule
Although we will make every effort to ship MetaZoo x Sanrio Collector Box Set within 5 business days of purchase and for arrival on or before 12/24/2023 for purchases made on or before 12/17/2023 , you understand and agree that there may be delays. An estimated time delivery (ETD) is only an estimate, is subject to change, and TCGplayer does not represent or warrant that it will be able to ship the item by the estimated date. As a result, in the event that a delay arises and the estimated shipment and/or release of the product is not met, TCGplayer is not responsible for any damages that may occur due to the delay, nor shall it be obligated, except as set forth in the Terms, to provide any discounts, refunds or credits due to any such shipping delays. We will provide you with updates with respect to our shipment schedule. If for any reason you decide you do not wish to continue to wait for your product, you may cancel your order as detailed below.
Delivery to military and diplomatic addresses (APO/FPO/DPO), Puerto Rico, Virgin Islands, Alaska or Hawaii, certain zip codes, and US territories are not eligible for release day delivery and may require 30-40 days. Please note that delivery may be delayed if you are unable to accept an attempted delivery, or due to inclement weather, strike, incorrect address or credit card information, or other unforeseen circumstance outside of our control.
Order Cancellations
TCGplayer reserves the right to cancel any order for the MetaZoo x Sanrio Collector Box Set, in its sole and absolute discretion, that the item is mispriced, out of stock, discontinued, or otherwise unavailable at the price listed via the platform. If TCGplayer cancels an order placed via the platform, TCGplayer will send you an email confirmation of such cancellation and you will receive a full refund of the purchased price without interest.
Refunds and Returns
Please contact the TCGplayer customer support team via your 'Order History' to request a cancellation within 48 hours of making your purchase. Once more than 48 hours have passed since your purchase was made that purchase is considered final. Due to the variability in market conditions, and the nature of MetaZoo x Sanrio Collector Box Set offerings, MetaZoo x Sanrio Collector Box Set purchases are not returnable.
Privacy
Any personal information supplied by you will be subject to the TCGplayer Privacy Policy.

Limitation of Liability
UNDER NO CIRCUMSTANCES WILL TCGPLAYER BE HELD LIABLE FOR ANY INCIDENTAL, SPECIAL OR CONSEQUENTIAL DAMAGES ARISING OUT OR RELATED TO THIS AGREEMENT. IN THE EVENT TCGPLAYER IS HELD LIABLE FOR ANY DAMAGES ARISING OUT OR RELATED TO THIS AGREEMENT, YOUR SOLE AND EXCLUSIVE REMEDY WILL BE THE FULL REFUND OF YOUR PURCHASE PRICE WITHOUT INTEREST.
TCGplayer assumes no responsibility or liability for (a) any incorrect or inaccurate entry information, or for any faulty or failed electronic data transmissions; (b) any unauthorized access to, or theft, destruction or alteration of purchases at any point in the operation of this sale; (c) any technical malfunction, failure, error, omission, interruption, deletion, defect, delay in operation or communications line failure, regardless of cause, with regard to any equipment, systems, networks, lines, satellites, servers, camera, computers or providers utilized in any aspect of the operation of the sale; (d) inaccessibility or unavailability of any network or wireless service, the Internet or website or any combination thereof; (e) suspended or discontinued Internet, wireless or landline phone service; or (f) any injury or damage to participant's or to any other person's computer or mobile device which may be related to or resulting from any attempt to participate in the MetaZoo x Sanrio Collector Box Set sale.
If for any reason, the MetaZoo x Sanrio Collector Box Set sale is not capable of running as planned for reasons which may include without limitation, infection by computer virus, tampering, unauthorized intervention, fraud, technical failures, or any other causes which may corrupt or affect the administration, security, fairness, integrity or proper conduct of this sale, TCGplayer reserves the right at its sole discretion to cancel, terminate, modify or suspend the sale in whole or in part. In such an event, TCGplayer shall immediately suspend all sales, and TCGplayer reserves the right to award any remaining MetaZoo x Sanrio Collector Box Set in a manner deemed fair and equitable by TCGplayer. TCGplayer and Released Parties shall not have any further liability to any participant in connection with the sale.