How can I get access to your card pricing data?
We serve up over 4 million pages of pricing data each day through our popular storefront and via partner websites and mobile applications!

TCGplayer has pre-built APIs available for use in your website/app to enable pricing data to be used in a variety of ways. And best of all, TCGplayer provides commission payments for all newly referred sales that you send our way!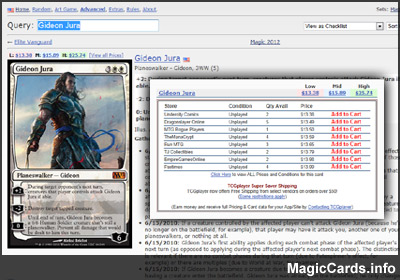 COMMISSION PAYMENTS
TCGplayer provides real-time stat monitoring so you can see the sales that you refer to us with 100% transparency. We tie these customers to a unique Partner code through the use of cookies and database entries to permanently tie the referred customer to your website/app across multiple computers and browsers. For current commission rates, contact us directly.
PARTNER SITES
TCGplayer has a plethora of APIs available to work with your website or mobile application. Listed below is a breakdown of our currently designed application. But please note, we also custom design APIs to fit the needs of your website/app to maximize the value of our pricing data for your users.
APIs
Hi-Mid-Low Price Data
Lowest Selling Vendors Pricing (Up to lowest 8)
Mass Entry (Send a large volume of product into the store)
Interested in adding this valuable resource to your site/app along with an additional revenue stream? Visit our developer portal for more information.