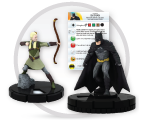 How do I list and sell miniature game items?

STEP 1 - SEARCH FOR THE ITEM YOU WANT TO SELL
In the Seller Portal, click on Inventory. You can then enter the full or partial name of the item you would like to add to your inventory. Please make sure you have the correct version of the item you wish to sell chosen as in collectibles there are often many different printings. Once you're sure you have the correct item that you would like to list click the "Add" button.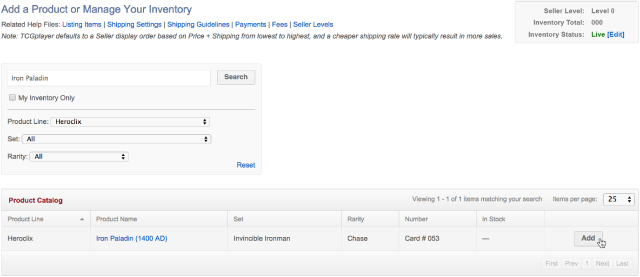 STEP 2 - SET THE QUANTITIES AND CONDITIONS FOR YOUR ITEM
You can sell one or multiples of your item by setting the available quantities and conditions. If you are unsure of which conditions to assign to an item please review our condition guidelines for: HeroClix.


STEP 3 - FINALIZE THE PRICE FOR THE ITEM(S) YOU ARE SELLING
You are responsible for setting the prices of the items you choose to offer on TCGplayer.com, and should take into account all applicable costs (including fees and shipping rates) when listing and pricing your items. You can sell one or multiples of your item by setting the available quantity. You can also enter whatever price you choose for the item manually or if you would like to match the lowest listing (item price + shipping) on the TCGplayer site click the "Match Lowest Listing" button and the lowest amount will auto-fill. From time to time we may establish minimum or maximum pricing limitations.
Keep in mind that any item you list on TCGplayer must actually be in your possession and you must fulfill all customer orders.
Click the following links to get more info on our Individual Seller Fees, Pricing Guidelines, and Shipping Settings.

STEP 4 - CONFIRM YOUR LISTING
Confirm the item, price, and quantities for your listing and then click the "Save" button. Once confirmed your item will appear to the public as an item for purchase!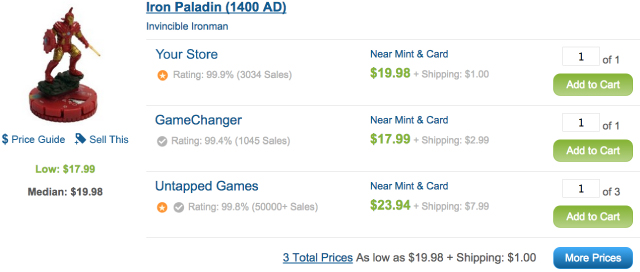 Please read the following pages for more information on what happens after your item sells: