Take control of your cart
The TCGplayer.com Cart Optimizer® scours ALL of our online Sellers to build you a perfect cart. Using customizable options, you can take control of your cart and find exactly the cards you're looking for!
Create a TCGplayer Direct order, get everything from sellers you like and reduce the number of packages you receive, pick up some original printings, or find reprints of your favorites - the Cart Optimizer® can do it all.
You can use the Cart Optimizer® after you finish building your cart, before checkout.
The Cart Optimizer® currently only works for Magic: the Gathering, YuGiOh & Cardfight Vanguard singles for Buyers located in the United States.
The Cart Optimizer® will always find you the lowest possible overall price for your order, based upon your filter selections.
Hitting the Cart Optimizer® button will take you to the configuration page and present you with options for matching printing, condition, sellers, sets, and rarities, as well as the ability to create a TCGplayer Direct package. Use the toggles on the left to set your preferences, and the Cart Optimizer® will go to work!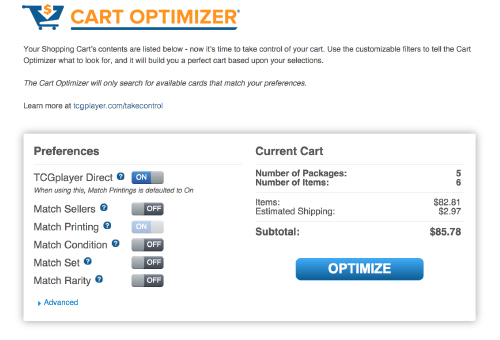 The Cart Optimizer® always finds the lowest priced cards that match your customized search filters, helping you build the perfect cart with exactly the cards you're looking for.
Depending on your custom settings, the Cart Optimizer® may:
Get as many cards as possible into one package for TCGplayer Direct.
Consolidate your cards among the fewest number of Sellers possible to reduce shipping costs.
Find you lower priced cards within the same printing, condition, rarity, or set, as you specified.
If you're not happy with the results of the Cart Optimizer®, you'll have the ability to undo the changes to your cart, or run the Cart Optimizer® again to try and build an even better cart.