Buying TCGplayer Gift Cards
There are several ways to access TCGplayer Gift Cards on our site:
Go to Gift Cards.
Choose the dollar amount and design for the Gift Card you would like to purchase.
Enter the To

and

From

fields and any

Personal Note

you would like your recipient to receive.

The Gift Card will be sent via Email to the recipient, so you will need their current email address to enter into the Email field.

You can then choose to have the Gift Card emailed on any date you would like (up to a year from the purchase date).
Alternatively, you can leave the date blank and the Gift Card will be sent via email immediately to the recipient.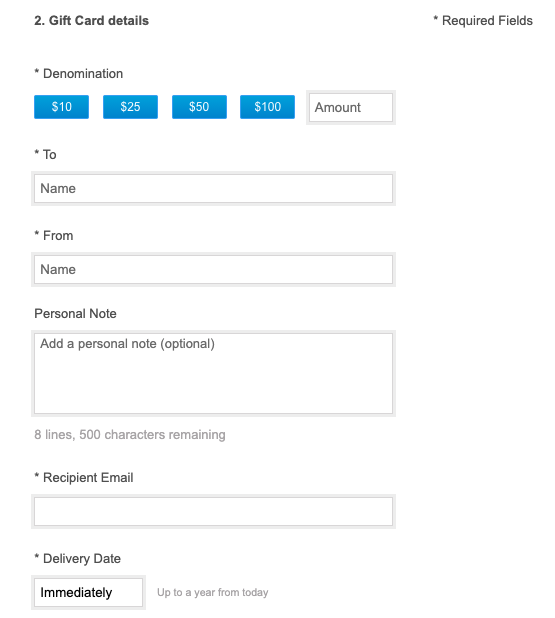 Once you're happy with the delivery the details of your gift card, click Add to Cart and you're all set.
Redeeming TCGplayer Gift Cards
If you have a friend or family member purchase a Gift Card for you on our site, they can choose to have the Gift Card emailed to you on a certain date (like your birthday or a specific holiday).
Once you receive your Gift Card, follow the instructions below to redeem it:
To redeem your TCGplayer Gift Card, log into your TCGplayer account. If you're new to our site, you can set up a free account to access your Gift Card.


View your account. From the TCGplayer homepage, you can click the profile icon next to your email, and click the Account link under "Your Account."

Next, click the Redeem Gift Card option on the left gray column.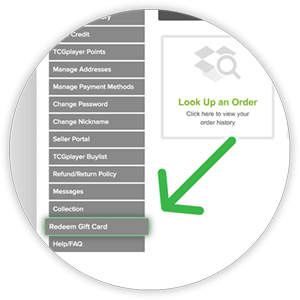 Enter your gift card code in the box and click the Redeem button. You will get a message that your Gift Card value has been added to Store Credit.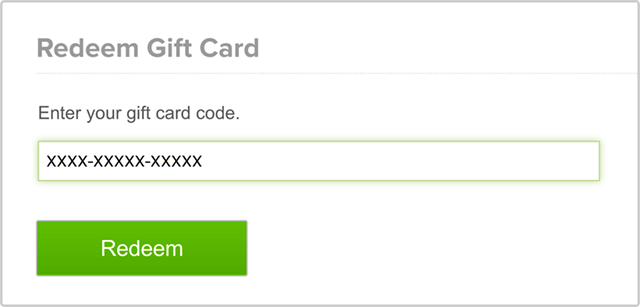 Next, click the Store Credit option on the left gray column.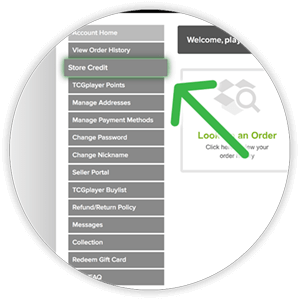 The Gift Card value entered is now listed under Store Credit History with the date.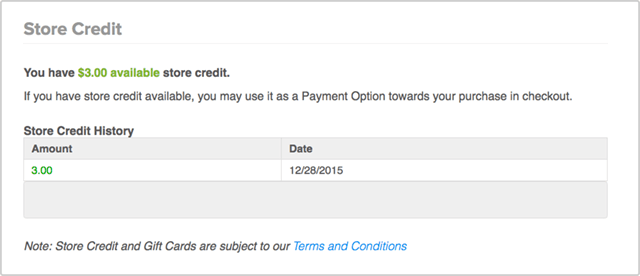 The Gift Card funds will now be added to your TCGplayer Store Credit balance and automatically apply to your next eligible order.
Note: If your order total is more than your Gift Card/Store Credit funds, the extra can be paid for by credit card or via PayPal.
Using Your TCGplayer Store Credit
During checkout, you will be taken to the Review and Pay screen where Store Credit will be listed as a payment option. Here you can choose whether or not you want to apply your Store Credit balance to your purchase.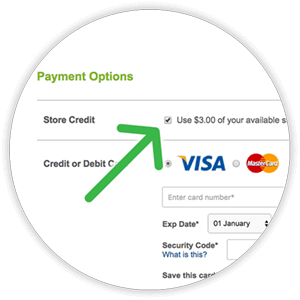 If you have any questions during the redemption process, please reach out to our Customer Service team for assistance.