Deck Builder
TCGplayer has recently launched our new Deck Builder tool! Below is some information to get you started with Deck Builder and to answer any questions you may have on accessing the site and retrieving old decks.
In the past, Deck Builder was linked to user forum accounts, but that is no longer the case. We no longer have an active forum so all new decks will be linked to your TCGplayer account.
New to Deck Builder?
Welcome! If you are new to Deck Builder, you can use your TCGplayer account login to create and manage your decks at Decks.TCGplayer.com. See the "how to" section below for more information on getting started.
Returning to Deck Builder?
Welcome back! If you are returning to Deck Builder and have old decks linked to your forum account that you would like to access, please note:
Existing decks can no longer be accessed with your forum login. You will need to know your forum nickname (player name) to search for old decks. If your decks were set to private you will not be able to find them using the public search, but don't despair! Just contact

sales@tcgplayer.com

and supply us with your nickname (player name) and we can turn your decks public so you can access them.
While you can view your old decks by searching the Deck Builder page, you will not be able to edit them.
To search for decks, go to Search Magic Decks and enter your Player Name in the search field. All public decks connected to this name will be retrieved.
FAQ's on retrieving old decks:
Q: Will my saved decks be deleted or are they still available?
A: Decks are still available to search publicly. You need to know your forum username to search for your decks here.
Q: If I had a previous forum account can I use that to log into the DeckBuilder?
A: No, you can no longer login with your forum account. You will now need to login to Deck Builder with your TCGplayer account or create a new account if you don't already have one.
Q: Are forums going to be reactivated or is Deck Builder replacing the forums?
A: The forums will remain offline with no plans for them to return. The Deck Builder serves a different function so it is not replacing forums, the forums have simply been removed.
Q: If I forgot my password or login information do I need to sign up again to use the Deck Builder and if so where are my decks that I entered previously?
A: You would need to login with your TCGplayer account username and password.  You can search for your old decks by your old forum username (player name) here.  
How To Use the Deck Builder:
Below are the step-by-step directions to guide you through the Deck Builder. If you have any questions that aren't answered within this page, please contact sales@tcgplayer.com.
1. Login with your TCGplayer account username and password. If you do not have an account already, you can create one on the login screen in the New Customer section.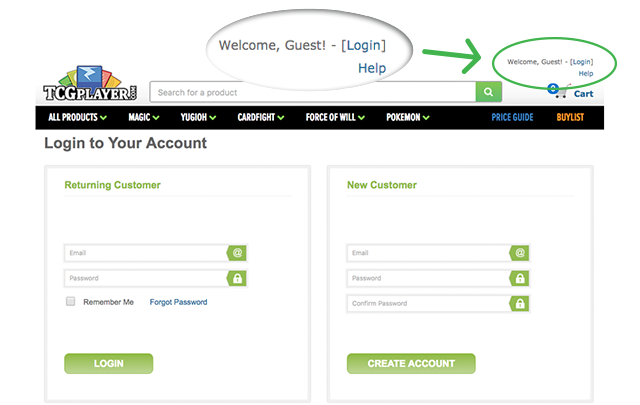 2. Go to the Deck Builder page at decks.tcgplayer.com
3. Welcome to Deck Builder! On the main screen you will see options for: Search Deck, Submit a Deck, Standard Decks, and Modern Decks. In addition, you will see decks listed in various categories for you to browse.

a. Search Decks - from here you will be able to search for decks using any of the following categories: Format, Card(s), Player Name, Location, Placed, Tags, Date, or Colors.

After entering the search criteria, click the "Search" button to view the results. The returned decks will be shown in a grid. Click on the Deck Name to view the deck details.

b. Submit a Deck - from here you will be able to build a deck. List the cards in the Main deck and the Sideboard and enter the Deck Name, Format, Latest Set, Tags, Description, and Player Nickname. You will also be able to set the deck to public or private. Once you are finished, click the "Validate" button.


If there are any issues such as unrecognized cards or cards that are not legal for the format selected, you will be shown an error. After you make the necessary changes, click the "Revalidate" button.

If all issues are resolved, you can then complete your deck build by clicking the "Submit Deck" button. Once your deck has been saved you can access it at any time.
c. Standard Decks - search through a list of Standard Magic decks
d. Modern Decks -  search through a list of Modern Magic decks