Best Practices for Listings with Photos
Ready to start adding photos to your listings on the TCGplayer Marketplace? Follow these best practices to get your listings up and start getting engagement from customers shopping on TCGplayer.com.
Photos
You're able to add up to 5 photos to your listing: a main image and 4 additional images. When adding photos to your listing, be sure to add images that clearly show the condition of your product and any unique features.
Main Image (1) - You can choose a main photo for your listing that will appear in product listings and search results. Choose the photo that will best display the product you're selling and grab the attention of potential buyers. 
Additional Images (4) - Be sure to include a photo of the front, back, edges, defects, and any unique markings. The more detailed your photos are, the more comfortable buyers will be that they're getting the product they want. Want to rearrange the order? You can also drag and drop the additional images to change the order that buyers will see them in.
Note: Photos must be in .jpg format (and variants of this extension). They should be no smaller than 750px wide and no larger than 15mb. Photos with inappropriate images are not allowed and may be removed from the website or censored if a buyer reports them. Be sure to upload the highest quality images possible so potential buyers can zoom in and really check out your product.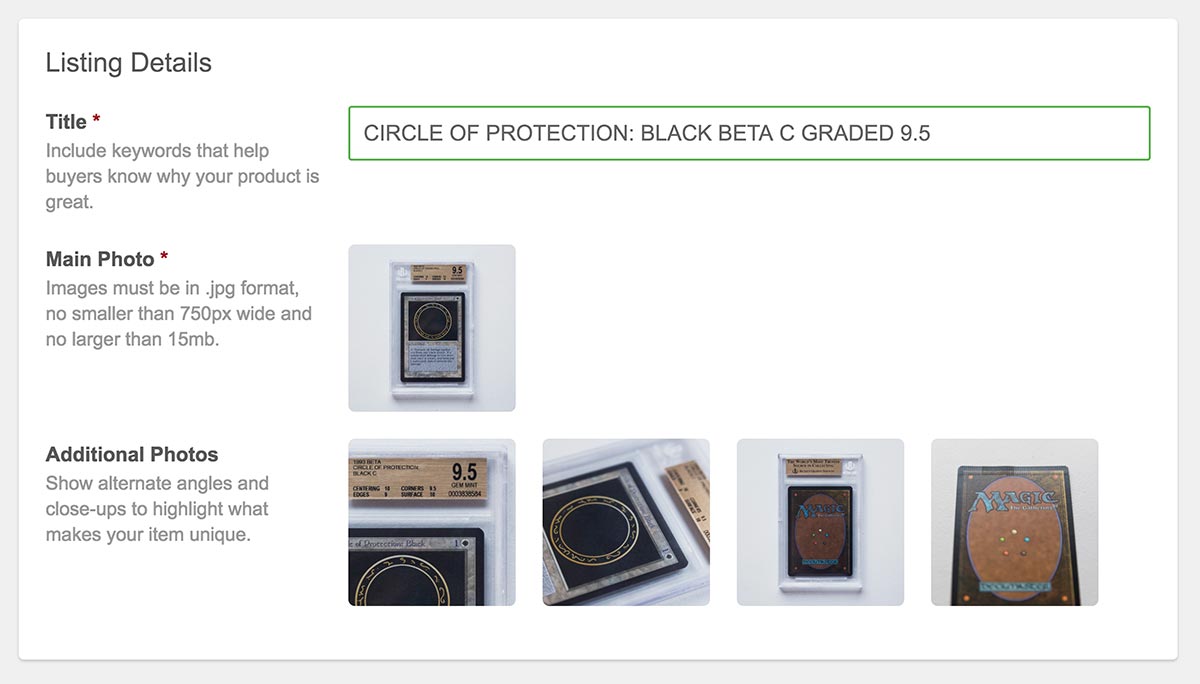 Custom Titles
In addition to being able to add up to 5 photos, you'll also be able to add a custom title for your listing. This is a great opportunity to show what makes your product unique. The custom title field has a 255-character limit, so use your space wisely.
Picking keywords for your title is easy. For example, if you're selling a signed copy of a card, you'll want to use words like "signed" or "autographed" in your custom title, as well as the name of the person who signed it. If you're selling a graded card, you can add things like the condition and rarity. If you're selling an altered card, add the name of the artist.