Intro to Listings with Photos (Buyers)
Listings with photos on TCGplayer.com allow you to see exactly what you're buying before you place your order. These listings are typically rare, expensive, or one-of-a-kind products that don't fit into the normal conditioning guidelines for various reasons. By seeing high-resolution images and custom titles, you'll have a better understanding of the condition and uniqueness of the product so you can make a more informed decision about whether or not you want to buy it.
Q: How are listings with photos different from other listings?
A: Listings with photos include details and images that are specific to that unique product. These listings are typically unique in one way or another. They may have signatures, be exceptionally rare, highly collectible, etc.
Q: What kinds of products might I find?
A: Sellers have the opportunity to list graded collectibles, signed cards and Funko Pop! figures, miscuts, misprints, alters–even entire playsets.
Q: How can I find and purchase these listings?
A: You'll be able to see which listings have photos when you search for a product using the search bar, advanced search, or product filters. Refer to How to Find Listings with Photos for more info.
Q: Do listings with photos qualify for TCGplayer Direct?
A: No. Due to the unique nature of listings with photos, you won't be able to combine them in your TCGplayer Direct shipments.
Q: Will I be able to use the Cart Optimizer?
A: No. You can continue to use the Cart Optimizer for any other items in your cart, but since they're unique, listings with photos cannot be optimized.
Q: How do I report inappropriate photos?
A: Either click on the Report button next to the photo or reach out to our Customer Service Team at sales@tcgplayer.com with a link to the listing, and we'll quickly jump in to moderate at our discretion.
Q: Are listings with photos protected by the TCGplayer Buyer Safeguard?
A: Yes. If your item isn't received in the expected condition you'll want to contact your Seller directly to notify them. They will work with you to resolve the issue. As always if you do not hear back from them or are unhappy with their resolution you can contact our Customer Service Team at sales@tcgplayer.com and we will step into resolve the order for you.
Q: What policies are there in place for listings with photos?
A: Our Refund and Return Policy now covers all conditions of cards, including MP, HP, and Damaged. Other than that change, our Buyer Safeguard and Refund and Return Policy will remain the same for listings with photos. Please refer to Listings with Photos Policies for more information.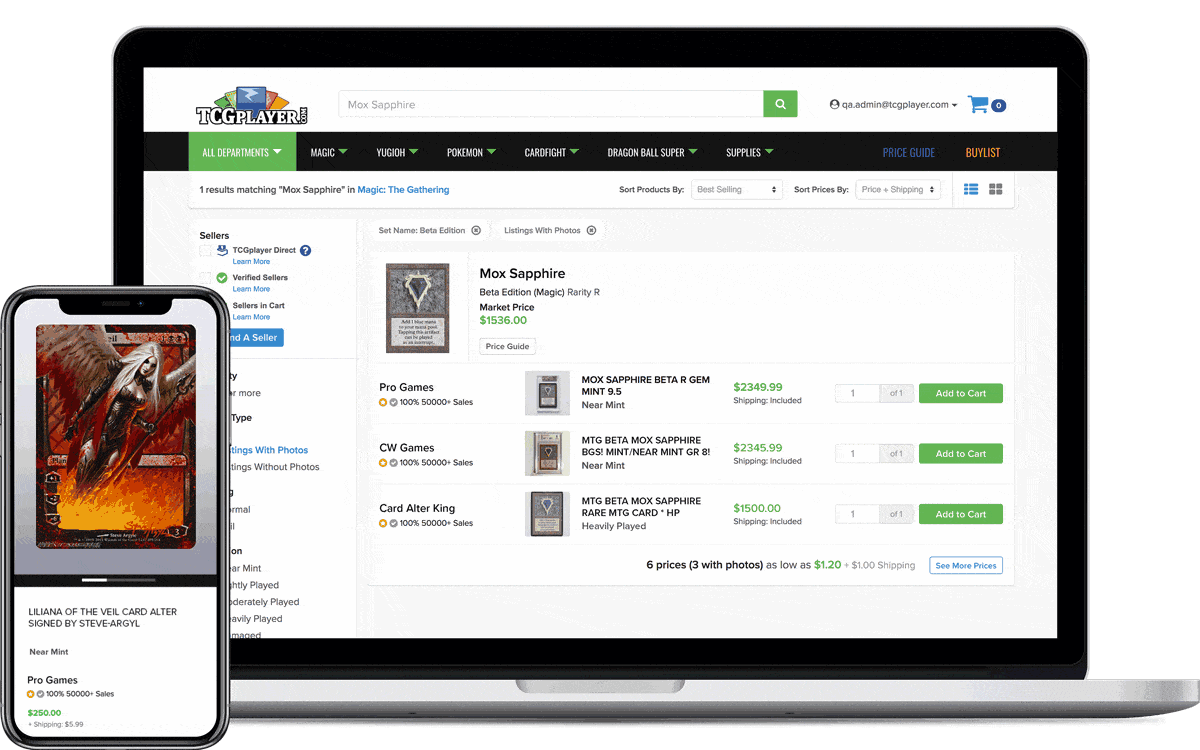 If you have questions about listings with photos that aren't covered by the FAQ above, please feel free to reach out to our Customer Service Team at sales@tcgplayer.com. We're happy to help!