Formatting CSV Files for Import and Export
A CSV is a "comma separated values" file, which allows you to save data in a table-structured format. You can use CSV files with any spreadsheet program, such as Microsoft Excel, OpenOffice Calc or Google Spreadsheets.  
It's easy to update your inventory quantities and prices if you first export a CSV of your existing inventory. Once you have a CSV export, you can make updates to the data and import the new values.
To export your current inventory to a CSV file, open the TCGplayer Pricing tab from within the Seller Portal. Click on the inventory toggle for the inventory group (Staged/Live) you'd like to export and select Export Pricing.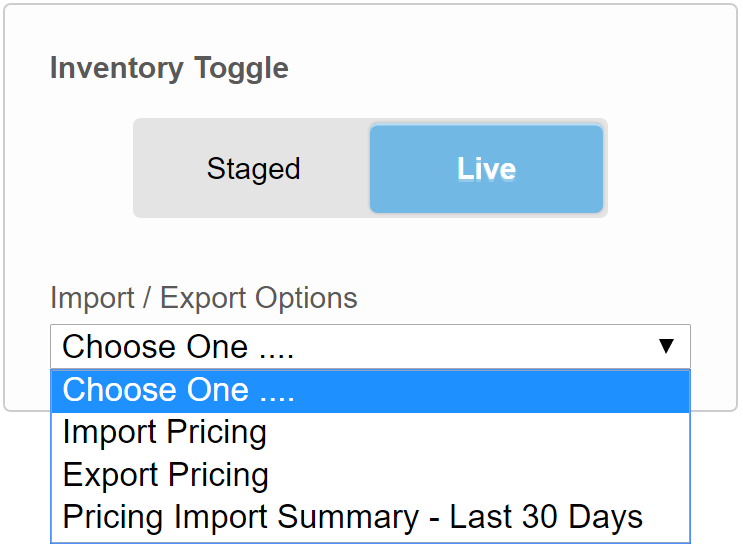 The Export Prices screen will open, allowing you to export your inventory in two ways. You can export your inventory by selecting Product Line, Set, Condition, Language and Printing preferences and clicking Download CSV. Or, if you want to download the entire inventory, simply click the Download Export button.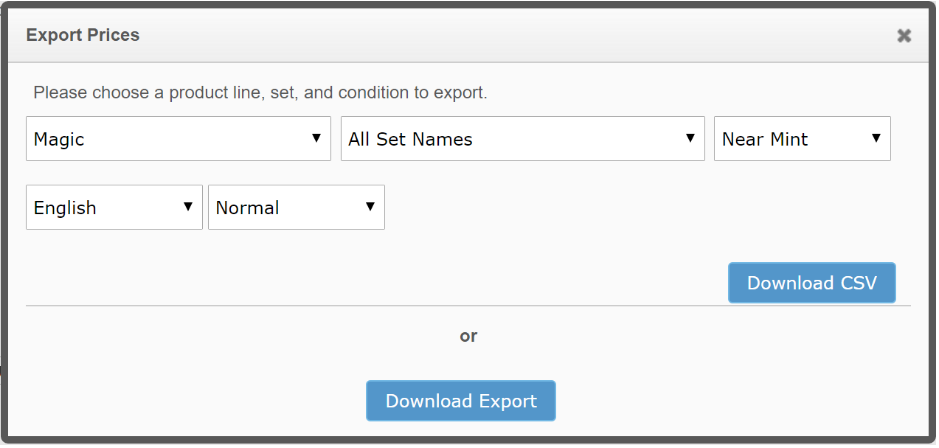 Once you make a selection, the CSV you selected will download to your computer. You can now modify the quantities and pricing for import back into your TCGplayer inventory.
Formatting CSV Files for Import into Your Inventory
Now that you have a CSV file with your current inventory, you can add or remove quantities and prices to your inventory on TCGplayer with ease! Using the exported CSV document from the directions above, you can import all of your updates at once.
Here is a quick tutorial detailing what you'll need to update and what each column header means.

The columns highlighted Blue in the image above indicate data that is essential to TCGplayer and therefore should not be altered when you're preparing your file for import. You won't need to manually enter anything for cells in these columns.
 The columns highlighted Green in the image above indicate data you will need to manually enter into the cells when you're preparing your file for import.

The CSV file is totally customizable depending on what you want to enter into your inventory on TCGplayer. You can feel free to delete any rows that you would like in order to remove cards, sets, conditions or rarities that you do not want to upload to your inventory. You can also sort any of the columns to aid you in entering your data—just don't change the order of the columns or delete them!
CSV Headings Glossary
Reference-Only Fields:
Do not change any of the values in the columns underneath these headings, as this information is needed to accurately import your Buylist requests.
TCGplayer ID - a SKU number used by TCGplayer to match up the card to our product listing site
Product Line - the card game the product is from
Set Name - the specific set a card is from within a product line (Aether Revolt, Kaladesh, etc.)
Product Name - the name of the card itself (Panharmonicon, Aether Hub, etc.)
Number - the card number
Rarity - the card rarity
Condition - Near Mint, Lightly Played, Moderately Played and the same for foils
Market Price - the current "true value" of each card available on TCGplayer.com (based on the prices at which the card has been selling averaged across multiple recent transactions)
Low Price - the Low Price for that specific product/set/condition (should a price not exist, it will be set to N/A)
Quantity - your current inventory Quantity for the item
Where to Input Your Desired Cards:
Add to Quantity - the quantity of the card you would like to add or remove from your inventory on TCGplayer (Note: You can add or subtract quantities from your existing inventory. To increase your inventory, enter an integer of 1 or higher. To reduce your inventory quantity, enter a negative integer.)
My Price - the actual price your Store has set for that specific product/set/condition