Best Practices for Quicklist Card Scanning Software
With TCGplayer Pro, you get access to our revolutionary new TCGplayer Quicklist Card Scanning Software, which will help you effortlessly update your inventory simply by scanning your cards. When using this software, multiple factors will determine the accuracy of card recognition. We recommend the following hardware and best practices to ensure the software works effectively.
Camera:
Due to the level of detail required to capture card images, you'll need a video camera with the following specifications:
Minimum Resolution: 1600 x 1200 (2MP)
Recommended Resolution: 2592 x 1944 (5MP)
We often recommend the V4K Ultra High Definition USB Document Camera from IPEVO.
Lighting:
Sufficient lighting is important in allowing the software to successfully detect card images. As long as you're scanning cards in a well-lit area with even lighting, your cards should scan properly.
To reduce glare, make sure your lighting setup is even across the entire surface of your scanning area.
Surface:
The background that you use while scanning your cards should be mono-colored and large enough to cover the camera frame.
Your camera position should be high enough off of the surface to detect an entire card within the frame.
Image Recognition:
When detecting card images, make sure to have the entire card in the frame. If anything is near the edge of the detection area, then the software may not be able to detect the card. Under Settings > Advanced Settings, you can enable a darkened boundary that should be avoided when detecting cards.


Make sure that there are no other objects in the image detection area.


When detecting multiple cards, we do not recommend stacking cards as you go. Once a card has been detected, remove that card from the detection area and proceed with additional cards.


When detecting foil cards, reduce glare as much as possible. Some angles may work better than others when detecting foils.


For the best results, remove cards from sleeves before identification, as sleeves can increase glare and reduce the accuracy of card recognition.
Example:

Correct Use - The entire card is within the boundaries of the camera, so the software will be able to detect the card accurately.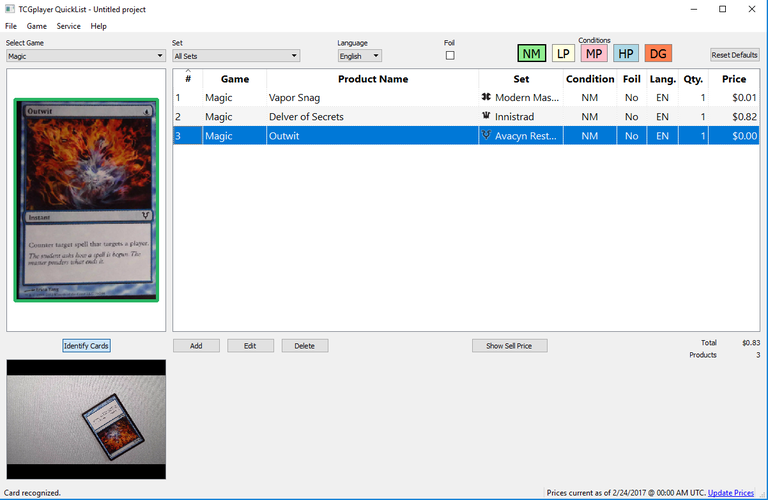 Incorrect Use - Part of the card is touching the edge of the camera's border, so the software won't be able to detect the card accurately.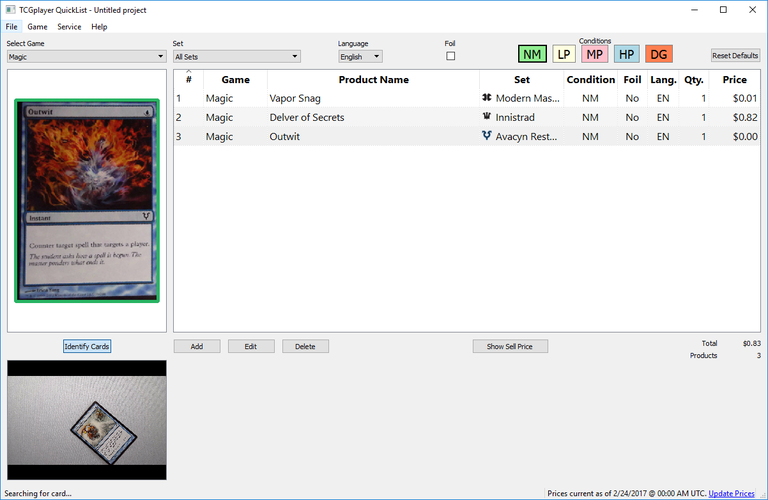 For required technical specifications, please refer to the System Requirements.