Pricing Guidelines
TCGplayer makes it simple to shop by ordering a product's prices by the cheapest price + shipping total. This means that prices listed toward the top have a combined price + shipping that is cheaper than those below them, and as such they are more likely to sell faster.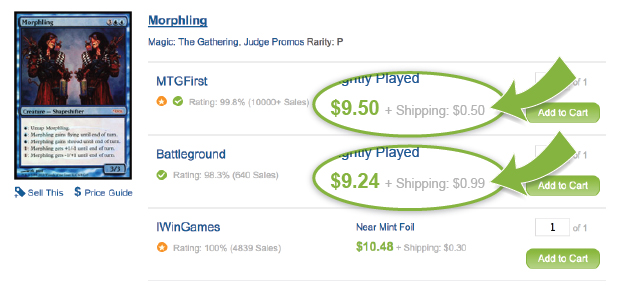 In this example, the top item price is more expensive than the item price below it. However, it is listed first because the combined price + shipping cost is actually cheaper than the items below.
This means that your shipping price is technically added to your item prices across the site. So if you have a $5 card listed and set your shipping at $3.99, then the actual calculated cost of that product is $8.99. Therefore, lowering your shipping costs has a huge impact on the overall placement of your products and can greatly increase the likelihood that your items will sell.
However, you also must take into account the actual cost to ship a product in the mail. TCGplayer recommends that you ship any package over $20 in value with Delivery Confirmation or Tracking for your own protection. Additionally, for orders of $50 or higher you MUST include Tracking/Delivery Confirmation. For orders of $250 or more you MUST include Tracking/Delivery Confirmation and Signature Required. You may want to consider protecting yourself by purchasing Insurance. Please read all of the Shipping Guidelines for Cards and make sure you're familiar with the expectations for Sellers on TCGplayer.
Listed below are the estimated costs of shipping:
Cards with Delivery Confirmation: $4.00
(Bubble Mailer = $0.90, Shipping = 2.00, Delivery Confirmation = $0.80, Top Loader/Sleeve = $0.10)
Cards without Delivery Confirmation: $0.91
(Envelope = $0.35, Stamp = $0.46, Top Loader/Sleeve = $0.10)
You need to factor in the costs of shipping along with the TCGplayer Fees when determining which cards you want to list for sale. If you have only a few cards for sale, you may not want to list $5.00 and under cards as doing so may actually lose you money on a sale. But, if you have hundreds or thousands of cards for sale, on average you will entice people to buy multiple cards from your account.