Common Postage Mistakes to Avoid
Accurate postage is a crucial part of shipping. It's important whether you're selling products on TCGplayer.com, sending Reimbursement Invoices (or "RIs") through Direct by TCGplayer or even submitting a Buylist Offer via TCGplayer Trade-In.
Postage is based on a variety of factors, including weight, shape, contents and size. Mail sent with insufficient postage is either returned to its sender or delivered to its destination flagged with postage due. Since postage is composed of many different classes, package types and shipping methods with subtle differences between these components, it's often easy to underpay for postage without even knowing you're doing it.
Please read through the common mistakes below and review the USPS Postage Rates regularly. That way you can take advantage of the most affordable options while avoiding postage due. This will ensure you receive payments on time and remain in our programs in good standing.
Note: The examples below show Commercial Base® prices. For up-to-date and accurate postage prices, please refer to the USPS website. Most Direct by TCGplayer sellers are printing digital postage using Commercial Base pricing offered by third-party shipping solutions like Stamps.com or Endicia. Please note that postage due packages are always compared to retail rates even if the original postage was paid at a commercial rate.
Selecting the Wrong Package and Postage Types
If you pay postage for one type of package and send a different type, you'll receive an additional charge for postage. It's important to pay close attention to the actual physical packaging material you send when selecting the mail class.
The Priority Flat Rate Mail Class packages are organized as follows (from least to most expensive):
Example: You print a prepaid Priority Flat Rate label. You pay $6.55 and head to the Post Office for packing materials. You see two options with "Flat Rate Envelope" on them. One is simple cardboard and the other is a padded bubble mailer. You choose the padded option as it seems safer. A week later, you get a message from TCGplayer saying you owe $0.55 postage. This is because padded envelopes cost $0.55 in additional postage. You paid for a Flat Rate Envelope (the $6.55 option) but used a Padded Flat Rate Envelope, which costs $7.10.
Simple Cardboard vs. Thick with Padding

This is tricky, as padded envelopes say "Flat Rate Envelope" in large font and only include "Padded" in small text next to the barcode.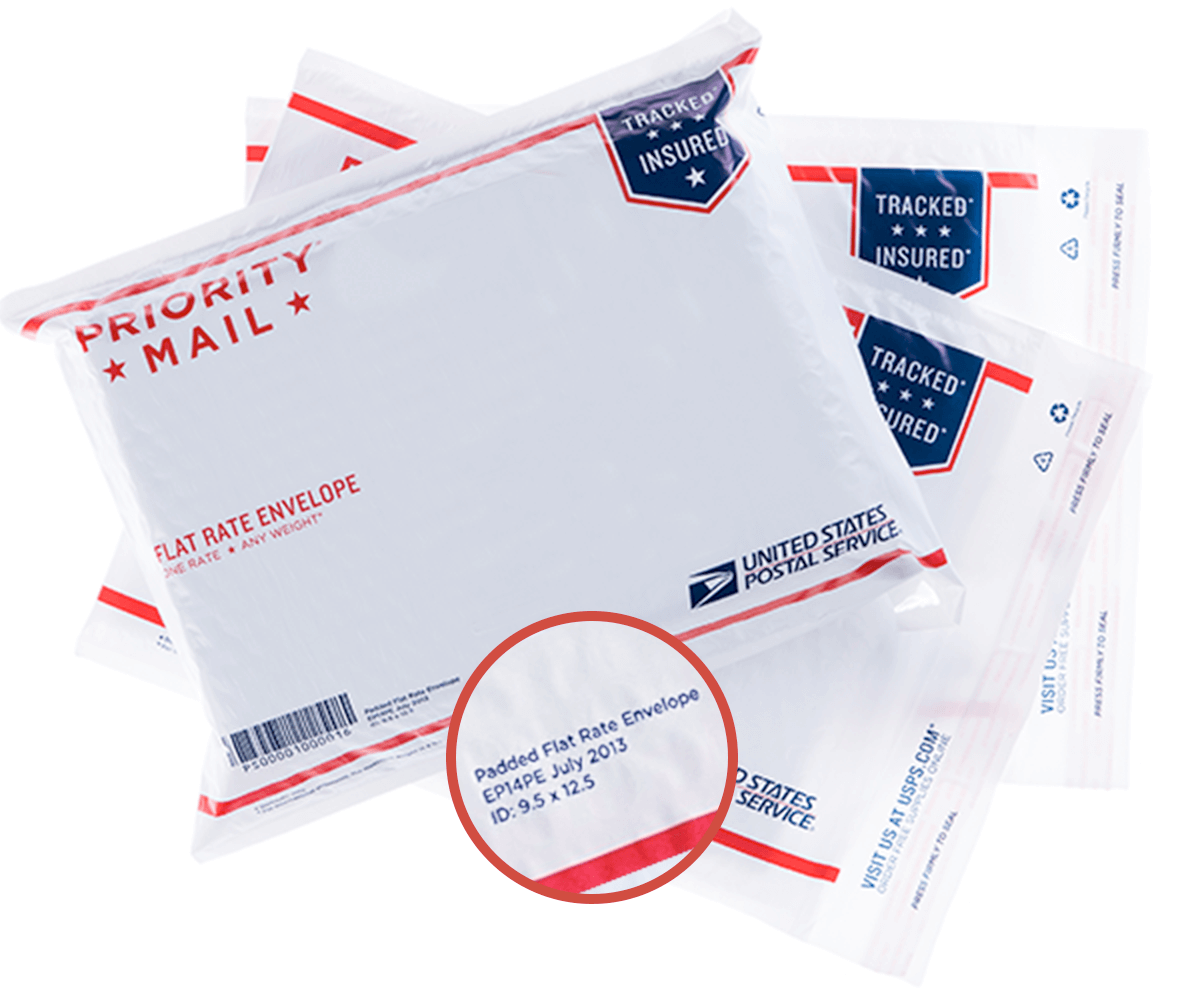 Using Media Mail for Non-Media
Media mail allows you to ship media at a more cost-efficient rate. However, it should only be used for items that the USPS considers media, including books, tapes, CDs, DVDs, sheet music and recorded media. Don't send any other items using this mail class. These packages are regulated and inspected. If you use media mailers for items that aren't considered media, you may be fined or your mail may even be rejected by the USPS.
Example: You use a box that's not from the USPS. When you weigh the box, it's clear it's going to cost a ton. You remember hearing that media mail is less expensive. You're relieved to see it will only cost $30.20. Since you utilized Media Mail service, your package is subject to inspection by the USPS in order to verify compliance. When they open and inspect the package's contents, they discover that the box is full of Magic cards, not media. You now have postage due in the amount of $55.32 for a total of $85.52.
Using Express Envelopes by Accident
If you pay for a Padded Flat Rate Envelope and send in a Padded Flat Rate Express Envelope, you'll wind up with postage due for the difference. Not only is this the wrong packaging; it's the wrong mail class. Any time you pay for a lower class and send in a higher one, you will be charged the difference or charged by the weight. Keep in mind that standard Flat Rate envelopes are red, while Express envelopes are blue.
Priority Mail vs. Priority Mail Express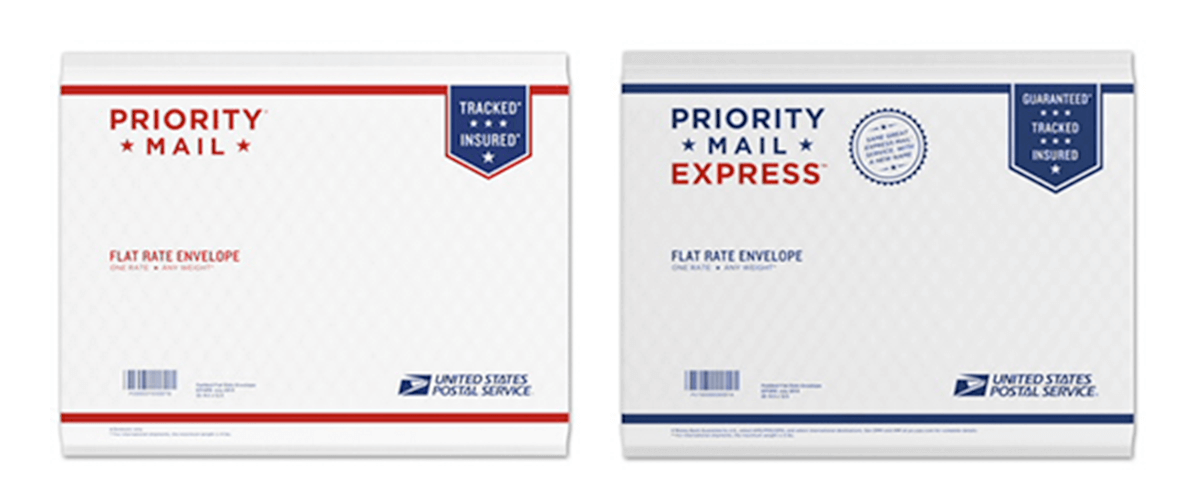 Example: You pay for a Padded Flat Rate Envelope, which costs $7.10. However, you accidentally use an Express envelope, which costs $22.46. You are then charged for the difference.
Paying for Flat Rate and Using Your Own Box
Boxes that don't say "Flat Rate" aren't honored as such by the USPS. Make sure to use Flat Rate packaging to save on shipping.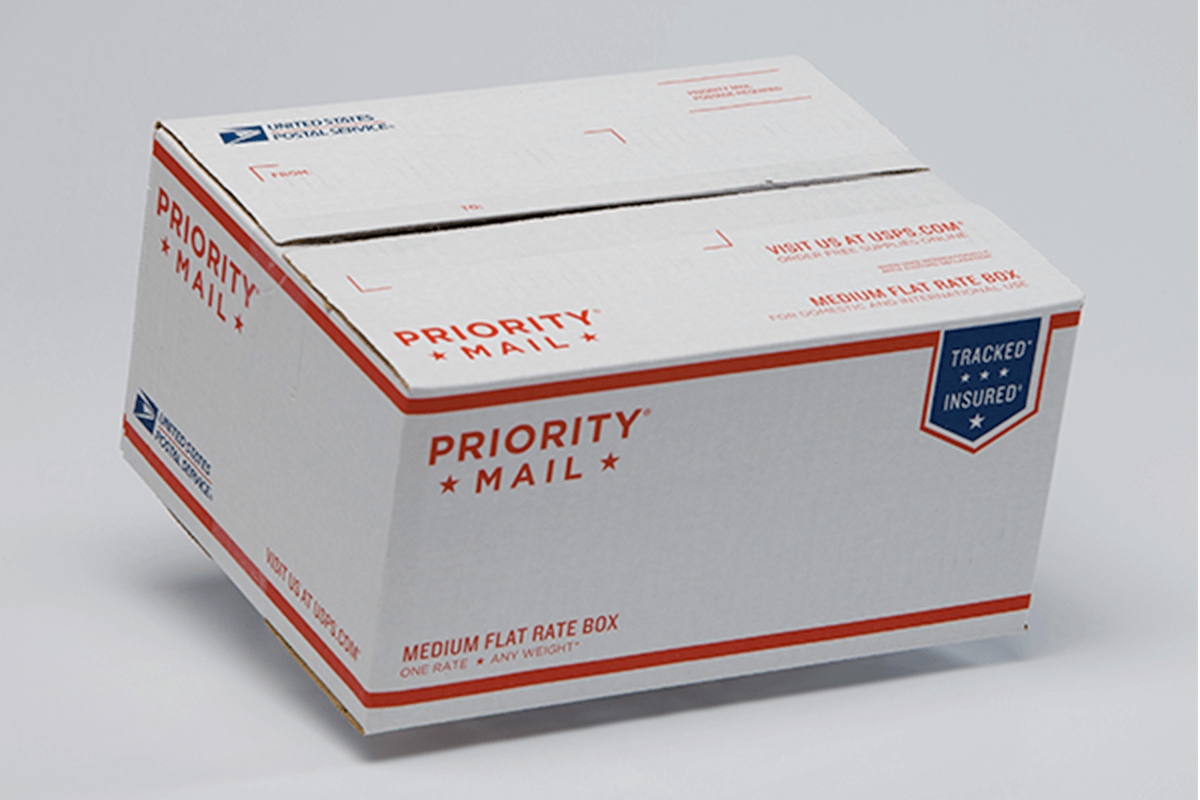 Example: You paid for a Medium Flat Rate Box (costing $12.85) assuming it would cover any weight. Then you ship your cards in a non-USPS box. The Flat Rate you paid is disregarded and the USPS classifies your package as a Weight and Zone package. This means that the price is based on the weight and distance being sent. They weigh the box with that in mind, then charge you $38.74, resulting in $25.89 postage due.
Paying for the Wrong Weight
The postage rate for certain package classes is based on weight. This is true for non-Flat Rate classes. It's easy to overspend on postage as well, so accuracy will pay off when selecting package weight. The postage is due when the package weight exceeds what postage covers, so always weigh your packages if postage is based on weight. Weigh your package once everything is packaged up and before you buy the label. Packages that are overweight can cause extensive delays for delivery. If you're using a third-party postage vendor, you may receive a back charge on your account when USPS scanning and processing equipment discovers the discrepancy. In some cases, when shipping to a customer, postage due pieces are returned to the sender for additional postage. Postage due packages often have to be paid for a second time meaning wasted time and money beyond the initial postage amount.
Example: You pay $3.18 for an 8-oz. First Class Package/Thick Envelope Label. You send your cards using the proper packaging, but it weighs 8.191 oz. The package is automatically moved to the 9-oz. tier for First Class Packages, which costs $3.34. Your postage due is $0.16.
Example: You send your cards in a regular envelope (First-Class Mail® Letter). It feels like it weighs more than what a Forever® stamp covers, so you slap on a second stamp. The two stamps add up to $1.00 of postage, covering 3 oz. Your package weighs 3.5 oz., which requires $1.13 postage. Your postage due is $0.13. In this case, you're lucky that it doesn't weigh over 3.5 oz., as that would bump you up to the next mail class (i.e. Large Envelopes) and require $1.63.
Mailing a Non-Machinable Envelope
Postage differs based on the size of packaging. If your envelope is too thick (letter size must be <0.25"), you may need to upgrade to a package class. The USPS requires mail of certain classes/types to have certain physical characteristics so they can be sent through a machine that automatically processes them. It's important that the enclosed contents are secure so nothing can slide around inside. Make sure you secure cards as evenly as possible while ensuring the envelope can still bend enough to get through the machine.
Packages that aren't flat don't meet automated processing standards and can be met with postage due. The USPS will either apply a surcharge or you'll need to pay the postage rate for a higher class. Even if you sent your offer with the right label and packaging (complete postage), this rate will be applied.
If your mail is too bulky or rigid or the item doesn't have a uniform thickness, its postage will be recalculated using a higher class postage rate. For large envelopes/flats, that higher class is Parcels.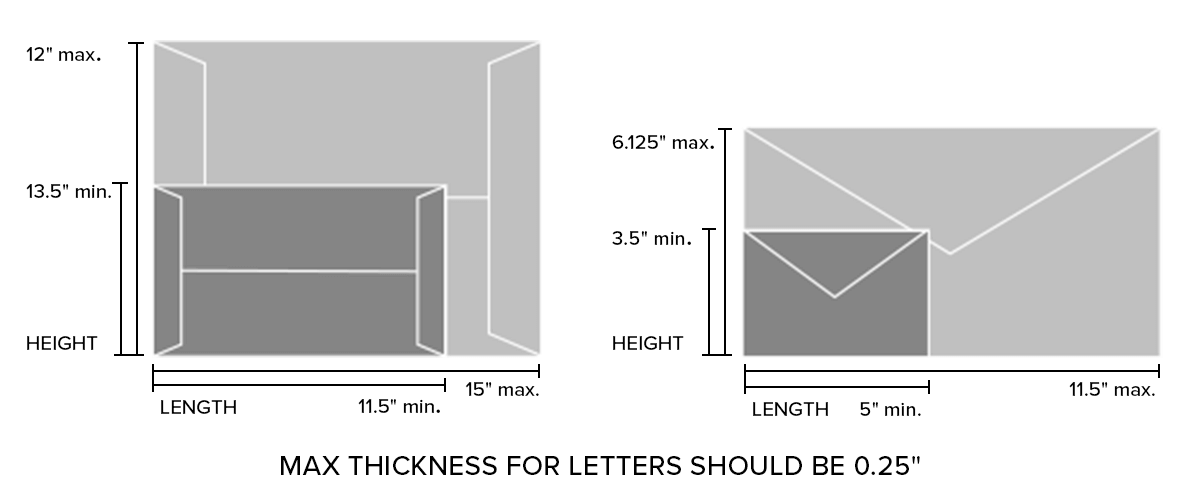 For more info, refer to USPS Tips and Tools for Measuring Letters.
Example: You ship cards in an envelope. You make it a First-Class Mail® Letter, which is rectangular with set minimum and maximum dimensions. Your max thickness is 1/4". Your package is slightly too thick so a surcharge is applied. This results in $0.21 postage due.
Example: You weigh your package before shipping. It comes to 4.82 oz. so you pay for the 5-oz. tier. You pay the proper amount of postage ($1.84), but unfortunately, the envelope features numerous lumps and bulges, creating a rigid surface that the machine can't process. You're charged the Parcel rate, which increases postage to $3.75, resulting in $1.91 postage due.
Example: You send 28 cards in a standard envelope, splitting them into two team bags, each containing a toploader. You pay the $0.93 required postage. When the USPS receives it, the contents are stuck in the right half of the envelope, creating an uneven thickness. The USPS adds a $0.21 surcharge, resulting in postage due.
Need More Info?
Refer to our Shipping Guidelines for Cards and Shipping FAQ for more information. If you need additional guidance on shipping your RIs for Direct by TCGplayer, refer to our Best Practices for Shipping Direct by TCGplayer Reimbursement Invoices. For what to do in the event of things like missing packages and other customer disputes, refer to our Marketplace Seller Agreement.
If you have any questions, please don't hesitate to contact us. We're always happy to help!