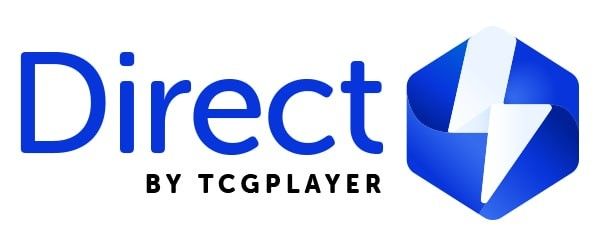 Direct by TCGplayer revolutionizes the shopping experience for the Magic: The Gathering, Pokémon, & Yu-Gi-Oh! markets. When a seller receives a Magic, Pokémon, or Yu-Gi-Oh! order on TCGplayer.com, TCGplayer will now pull the items from its own carefully managed inventory and ship them to the buyer in one package.
At the same time, TCGplayer will send a summary of sales to each seller. The seller then simply ships those items straight to TCGplayer in one package, which replenishes the TCGplayer inventory and allows the cycle to continue.
Sellers may opt into this program if they meet certain requirements. Upon opting in, TCGplayer will pull and ship orders on behalf of the seller, as well as provide full customer support and resolution of all disputes.
Sellers in the Direct by TCGplayer program will be highly visible on the TCGplayer website. Their shipping will be hassle-free and their customer service will be streamlined and completely covered by TCGplayer. This provides each seller with more time to focus on growing their business.
For more information about Selling with Direct by TCGplayer, check out our extended help pages.


Am I still in charge of setting my own prices?
Yes, you still have total control over your prices in order to create the best experience possible for the buyers.
What happens when

Direct by TCGplayer

doesn't have a specific card in stock?
Items that TCGplayer will carry in our own carefully managed inventory will be indicated as available from Direct by TCGplayer while browsing the site. For any order including one or more items not indicated as Direct by TCGplayer, you will ship the full order directly to the buyer - just like you do now.
How do you know what to buy for the

Direct by TCGplayer

program?
Our ability to gauge demand for cards comes from the combined data of millions of transactions. Like Coca Cola's formula, we have unique methods and ingredients available to give people exactly what they crave. It's pretty much....Magic.
How do I restock

Direct by TCGplayer

?
Orders shipped by Direct by TCGplayer will be compiled into a Reimbursement Invoice that will be available within your Seller Portal on Mondays, Wednesdays and Fridays. The items contained on this pull sheet should be packaged and shipped to us within one business day. [More Info]
What happens if I ship my restock package to

Direct by TCGplayer

and it doesn't arrive?
As with all shipments you send to customers and to Direct by TCGplayer, you will be responsible for them up to the point that they are delivered. After that, they are TCGplayer's responsibility.
What happens when a buyer wants to leave negative feedback?
You'll be protected from any negative feedback on orders Direct by TCGplayer ships on your behalf. We will respond to the customer and resolve any issues, and the negative feedback will not count towards your feedback rating.
How much is this going to cost?
Direct by TCGplayer is designed to increase your orders and lower the expenses you incur from shipping an order directly to a customer as well as resolving any issues that come up via customer service.
Direct by TCGplayer replaces your usual expenses by providing a shipping replacement cost generated on a weight basis, factoring in all the typical weights and costs per package—this includes postage, envelopes, team bags, top loaders, penny sleeves, paper for invoices, etc. In addition, TCGplayer has factored in savings based upon the average costs for labor and customer service. This includes lost packages and condition discrepancies being entirely resolved by TCGplayer.
The Direct by TCGplayer shipping replacement cost not only covers all aspects of shipping materials but also gives you more free time to spend on the things that matter, like growing your business.
How does

Direct by TCGplayer

help me?
Direct by TCGplayer will take care of all of your packing, shipping and customer service issues—including condition disputes, returns and refunds. For all Direct by TCGplayer orders, you'll never again have to worry about the time and money spent on things like lost packages or challenges over card conditions. Direct by TCGplayer will handle the cost of those as part of this program. This saves you time and gives you the freedom to focus on growing your business or acquiring new inventory to sell. By improving the buyer experience, TCGplayer will attract all sorts of new customers, helping your storefront to grow.
What happens if I don't "opt in?"
You're welcome to not opt in, and you can continue selling cards the same way you do right now. Your sales will likely increase as Direct by TCGplayer will drive new and returning buyers towards our site, who will continue seeking out great prices.
How does TCGplayer profit?
Direct by TCGplayer is designed to improve the buyer experience and lower the costs for our sellers. TCGplayer will profit the same way that it always has—by making a commission on sales. A better buyer experience leads to more sales for our sellers, and more sales for our sellers leads to more commission opportunities for us—everyone wins!
RETURN TO TOP