How Do Listings With Photos Work?
Q: What fees are charged for Listings with Photos?
A: Fees will be charged the same as any normal listings. However, we added a $50 commission cap, so you can make more money on high-value items.
Q: What photo sizes and formats are required for Listings with Photos?
A: Photos should be .jpg format (and variants of this extension). They should be no smaller than 750px wide and no larger than 15mb. Photos with inappropriate images are not allowed.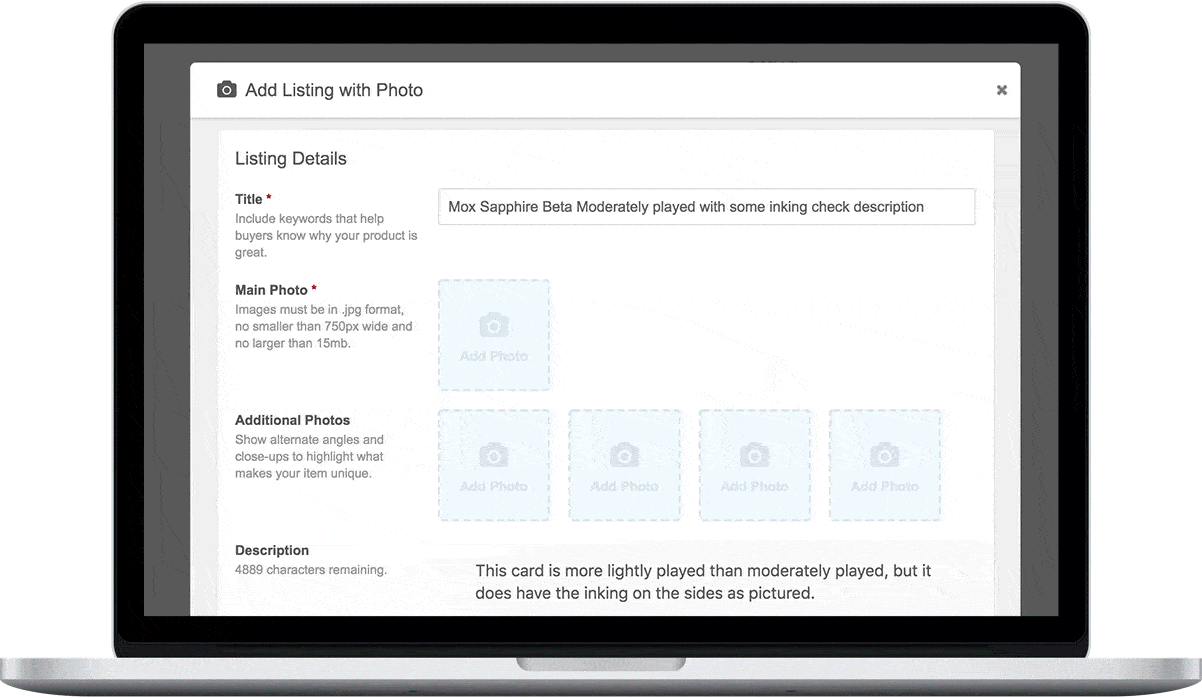 Q: Why are the Lowest Listing and Market Price fields empty when I add a photo to my listing?
A: Since Listings with Photos are unique items with unique pricing, the Lowest Listing and Market Price columns will be left unpopulated to avoid skewing the data for more traditional listings for these items.

Q: Do Listings with Photos impact my Seller Level threshold?
A: Yes. Listings with Photos will be included in both the calculation for your total inventory dollar amount and your total inventory product count. You can view your Inventory Total in the Inventory tab, Manage Product section, and Home tab.

Q: What reporting functionality is available for Listings with Photos?
A: Listings with Photos are currently included in any existing reporting where products are displayed. Whether or not a listing has a photo will be indicated in the title/description. No new reports are currently being generated.
Q: What user role permissions are needed to add/edit Listings with Photos?
A: Users who currently have permission to add/edit inventory and change prices will also have the ability to add/edit Listings with Photos.
Q: Can I add photos to listings on my TCGplayer Pro website?
A: Not currently. For the time being, you can only add photos to listings on the TCGplayer Marketplace.
Q: May I sell proxies as Listings with Photos?
A: No. All Listings with Photos need to be (or have originally been) the official, manufactured item you're listing. For example, if you're adding a photo for "Tarmogoyf" it can be a signed Tarmogoyf, a graded Tarmogoyf, or even an altered Tarmogoyf. You can even make origami out of a Tarmogoyf and sell that. But you can't list a piece of paper with "Tarmogoyf" written on it. The card has to have been a real, manufactured Tarmogoyf at some point.
Q: May I list card lots?
A: Yes! Just make sure to select "Bulk Lots" as the product line (rather than Magic, Yu-Gi-Oh!, etc.) To learn more about selling Bulk Lots, check out our announcement.
Q: May I list non-English cards?
A: For Magic: The Gathering, if the language on the card matches an available option in the "Choose a Condition" dropdown, you're okay to list that item with a photo. If you don't find the right language for your Magic card, please reach out to catalog@tcgplayer.com and we can add it for you!
For all non-Magic: The Gathering games, if the language on your card doesn't match one of our available options, use the Custom Title and Custom Description fields to clearly list the card's language.
Q: Can I list loose packs under booster boxes?
A: Yes! Just make sure your title, description, and pictures clearly show the buyer that they are only receiving packs and not a booster box.