Bulk Lots Seller FAQ
Last Updated: August 17, 2018
How do I list Bulk Lots on the TCGplayer Marketplace?
You can add Bulk Lots in the Inventory tab (available to all sellers) or the Pricing tab (available to Level 4 sellers). You'll enter product information the same way you would when adding other Listings with Photos.
Read How to List Bulk Lots on TCGplayer to learn more.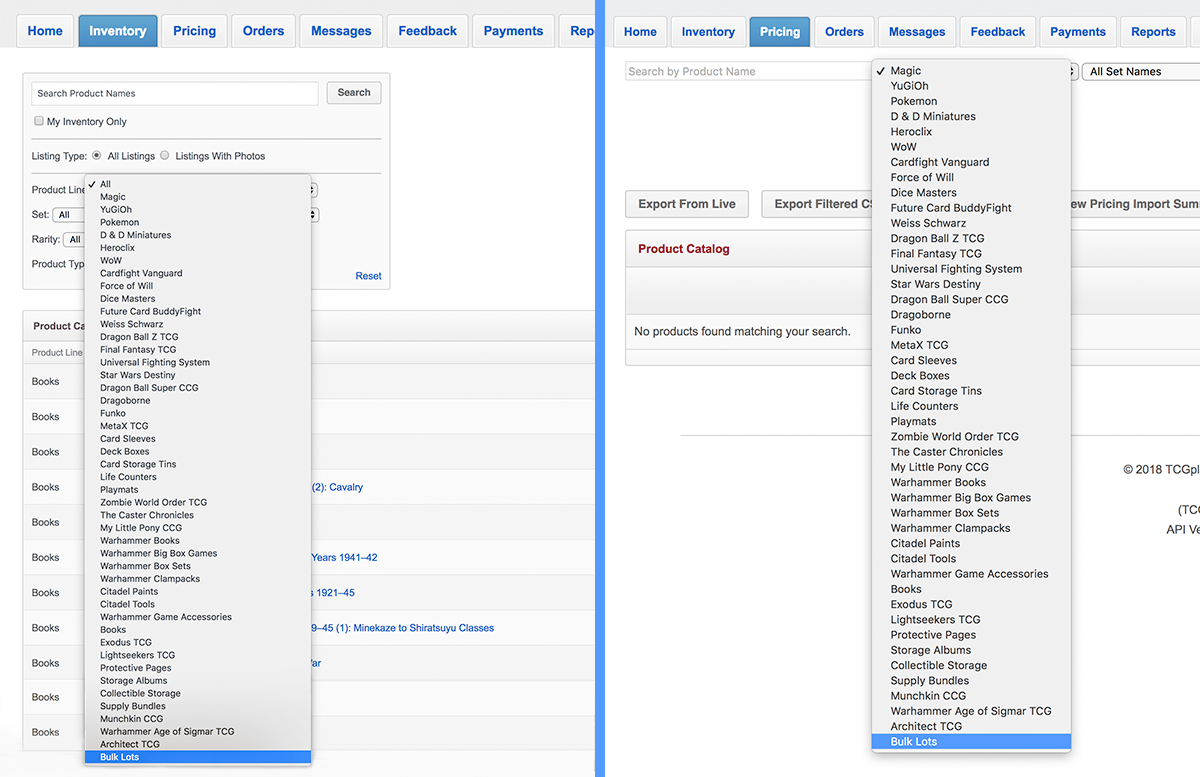 Do Bulk Lots need to be added as Listings with Photos?
Yes. Since what you can list using Bulk Lots is so varied, it's important to add your own photos, along with a custom title and description for your listing.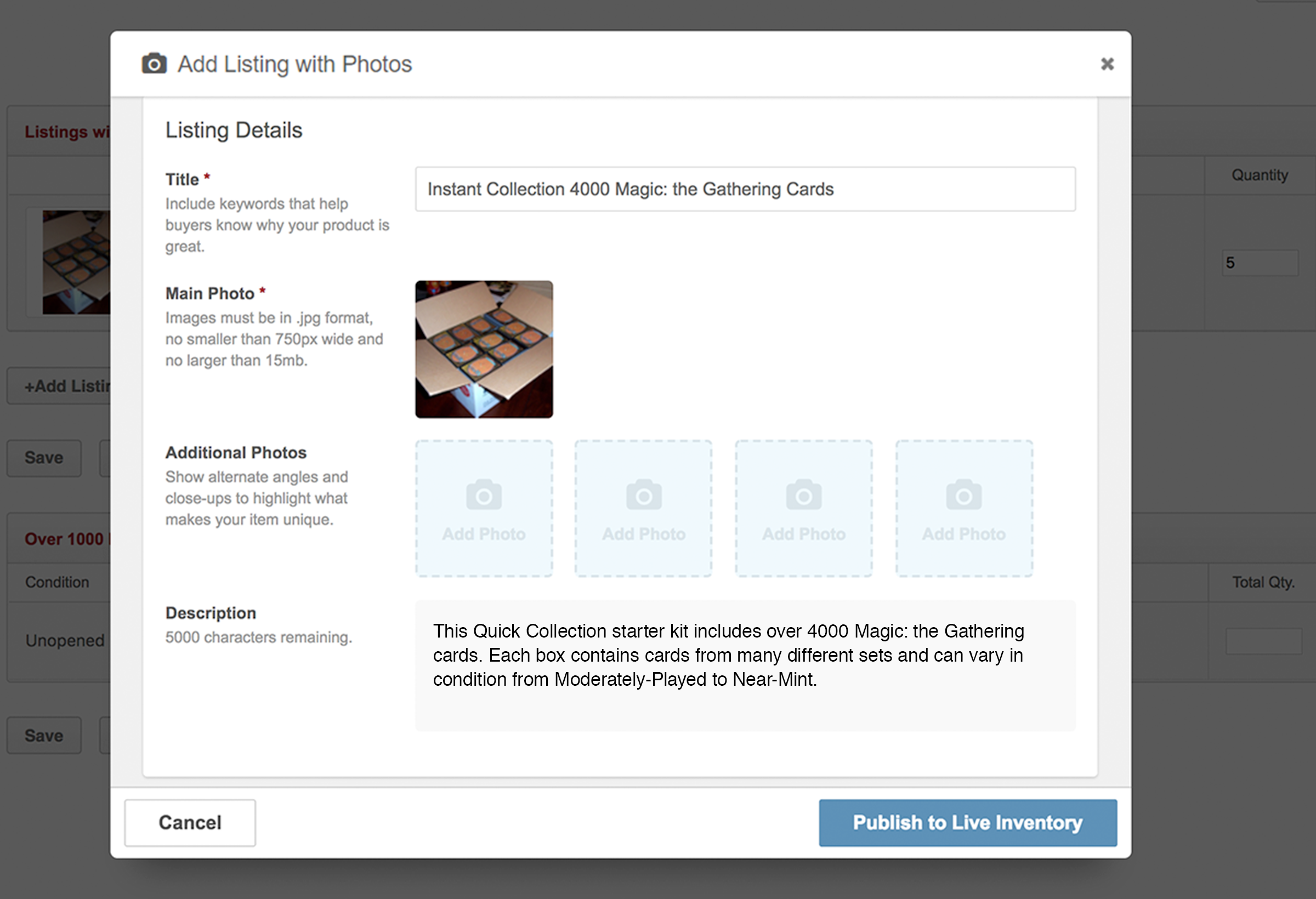 Even if you're selling a blind box (a box with some degree of uncertainty to its exact contents), it's important to add that information to the title and description so buyers know that's what they're getting.
Listings with Photos are 4x more likely to sell on the TCGplayer Marketplace compared to standard listings, so the extra time will be well worth it for your business.
What kind of photos should I take for Bulk Lots? What if my Bulk Lots are randomized?
As with all Listings with Photos, it's important that the photos you add accurately represent what you're offering the buyer when they add your item to their cart.
We recommend that you take photographs of each individual Bulk Lot you're offering. That will give buyers more confidence so they're more likely to purchase from you. However, we understand that this can be time-consuming for your business.
If you'd like to sell randomized assortments to save time, just make sure that your photos only show products the buyer will receive. Showing card faces for items that won't necessarily be included in an assortment may cause a negative experience and result in negative feedback for your store.
A good way to ensure you're not showing any cards that the buyer won't receive is by flipping over your cards so only the back is showing or only showing the edges of cards. That way if you want to sell 10 different random assortments, each containing 100 cards, you can do so without miscommunicating what the buyer will receive.

Do I need to add a custom title and description?
Yes. It's important that you include a unique title and description so you're explaining exactly what the buyer will receive from your store. If you're selling a random assortment, make sure you include that in the title. If you're selling a bundle that includes dice, make sure you include that. Also make sure to include condition descriptors (like "Mixed Lot with Cards in LP and MP Conditions"). Being as thorough and accurate as possible in your custom description will protect your business. You'll be less likely to receive negative feedback if you're stating exactly what customers are getting when they add your product to their cart.
Can I list Pokémon code cards?
Yes. Just make sure the custom title and description for your listing accurately describe the code card lot. Please also use caution when photographing your lot so codes aren't being displayed for use.
What if a customer asks for a refund or wants to return the products? Do I need to do that?
All sales are final on Bulk Lots. As long as your photos, custom title, and description for Bulk Lots provide an accurate representation of what the buyer will receive, you do not need to accept refunds or returns. Your store's return policy is up to you. However, since it's important to provide great customer service, we recommend that you allow returns and make the buyer pay for return shipping to cover that cost for your business.
If your photos, custom title, and description are at all misleading (showing cards or other products the buyer will not receive, listing cards in a better condition than what you're offering, etc.), you will be required to provide the listed items to the buyer. If you cannot provide the items advertised, you will need to work with the buyer to resolve the order issue. This can include a return of all of the items for a full refund once you receive them or a partial refund for the missing items. If the return is being made due to a mistake on your part, you are responsible for sending the buyer a pre-paid, trackable parcel to return the merchandise.
For more information on Bulk Lots, check out our announcement on the Seller Blog. As always, your feedback is welcome. Contact our Customer Service team to discuss the feature and provide any feedback.